HENRY DAVID FULMER, JR., Class of 1945
Born July 23, 1922 to Olivia Guental and Henry D. Fulmer, in Columbia, South Carolina, Henry entered The Citadel with the Class of 1945. He also attended the University of South Carolina with the class of 1943.
1LT Henry D. Fulmer Jr., was bombardier on B24J #4250597 "Beaver Baby" piloted by 1LT Robert W. Marx assigned to the 489th Bomb Squadron, 93d Bomb Group, 8th Air Force stationed at RAF Hardwick, USAAF Station 104.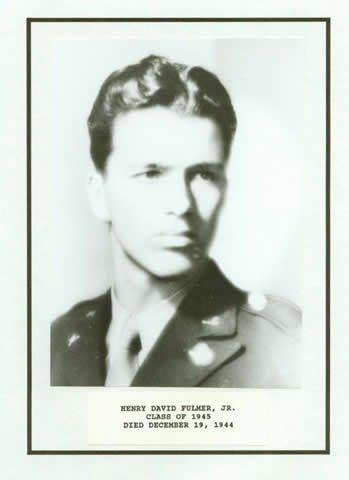 The morning of December 19, 1944, at approximately 1000, "Beaver Baby" was the lead ship on a mission to bomb German forces encircling Bastogne. Takeoff was attempted on instruments in dense fog and witnesses reported hearing engines backfiring on the takeoff roll. One or more engines failed on takeoff and the heavily laden aircraft crashed killing the entire crew. The mission was scrubbed.
The crew of "Beaver Baby" were buried at the temporary U.S. Military Cemetery Cambridge on December 27, 1944, in Plot T, Row 8. Fulmer's grave was the first in the row. At the request of his widowed mother, he was permanently interred Cambridge American Cemetery in Plot D, Row 7, Grave 18 where he rests in peace today.
He was twenty-two years old.
/SSmith