JAMES LAWRENCE MANNING, '42
Born December 3, 1921 to Minnie Holland and Lawrence Albert Manning, Jr. in Latta, South Carolina, James attended the local Latta schools and graduated from The Citadel with the class of 1942 with a degree in History. He married Grace Tucker of Charleston, South Carolina. Commissioned in the Infantry, he was assigned to Camp Wheeler and Fort Benning Georgia.
Assigned to the 106th Infantry Division at Camp Atterbury, Indiana where he was promoted to Captain and took command of Cannon Company, 423rd Infantry Regiment. Manning sailed with the Division for Europe arriving in England on November 17, 1944. Assigned to VIII Corps, 1st Army, 12th Army Group, the division sailed for France on December 6 and joined the Rhineland Campaign then in progress.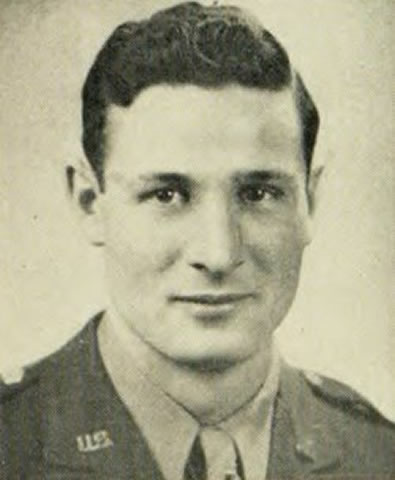 Crossing into Belgium on December 10, the 106th Infantry Division relieved the 2nd Infantry Division in the Schnee Eifel on 11 December 1944, less the 424th Infantry Regiment which was sent to Winterspelt. U.S. Army doctrine called for a division to be responsible for no more than 5 miles of front.
On the eve of the battle of the bulge, the 106th Division was covering a front of almost 26 miles.
The Germans attacked the 106th on 16 December 1944. The 422nd and 423rd Infantry Regiments were encircled and cut off by a junction of enemy forces in the vicinity of Schönberg. They regrouped for a counterattack, but were blocked by the enemy. The two regiments surrendered on 19 December. The Germans gained 6,000 prisoners in one of the largest mass surrenders in American military history.
Captain Manning was reported missing in action as of December 21, 1944. His body was recovered in Bleialf, Germany in February and buried February 15th 1945 in the temporary U.S. Military Cemetery #1 at Foy, Belgium in Plot B, Row 10, Grave 236.
His Parents and wife received the notice March 7, 1945 that he had been killed in action. He was posthumously awarded the Silver Star for actions while in command of his company he "heroically directed his troops in repulsing heavy enemy attacks and in making a successful counterattack near Bleialf, Germany, on December 16, 1944," the citation read.
His widow Grace, having remarried in 1947, the decision on the final disposition of CPT Manning's remains fell to his father who opted to have him interred in the Henri-Chapelle American Cemetery and Memorial where he rests in peace in Plot G, Row 4, Grave 35.
He was twenty-three years old.
/SSmith