WALTER STEELE COVINGTON JR., Class of 1946
Born April 1, 1925 to Walter S. and Agnes W. Covington in Raleigh, North Carolina, young Walter attended the local schools and after completing the 11th grade in May 1942, entered The Citadel with the class of 1946. He was drafted August 27, 1943, and spent a semester at Davidson College.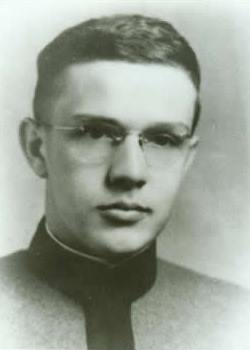 In February 1944 he was ordered to Fort Bragg, North Carolina, and completed basic training at Ft. McClellan, Alabama. He shipped out for Europe in August 1944 arriving in time to take part in the battle for Brest, France with the 28th Infantry Regiment.
In the 8th Infantry Division sector of the Hurtgen forest on December 9, 1944 near Vossenack the enemy resisted stubbornly. In the ebb and flow of the vicious combat in the woods, both sides lost and regained ground fighting both the enemy and the weather. It was in this ebb and flow that Private Covington was listed as Missing in Action.
His parents received the news on December 27th 1944. On Tuesday March 13, 1945 they received a telegram from the War Department correcting the record and confirming that their son Walter had been killed in action on December 9, 1944.
Private Covington's body was recovered and buried on December 20, 1944 at the temporary U.S. Military Cemetery at Henri-Chapelle, Eupen, Belgium. After the war, in accordance with his family's wishes, he was permanently interred there and rests in peace at Plot D, Row 10, Grave 9.
He was nineteen years old.
/SSmith