CRESWELL GARLINGTON, JR., Class of 1944
Born February 1, 1922 to Lt. Col. Creswell and Alexandrine Finch Garlington in Paris, France, "Cres" was a member of "The Citadel class of 1944, the class that never was. His brother Henry Fitch Garlington was a member of the class of 1945. The Garlingtons were a family dedicated to service to the nation. His Great Grandfather was Albert Creswell Garlington who served briefly as a Major in the Holcombe Legion, a regiment raised by Major Peter F. Stevens, Superintendent of the South Carolina Military Academy at the start of the war. Governor Pickens appointed him Adjutant and Inspector General with the rank of Major General. He unsuccessfully ran for Governor in 1864.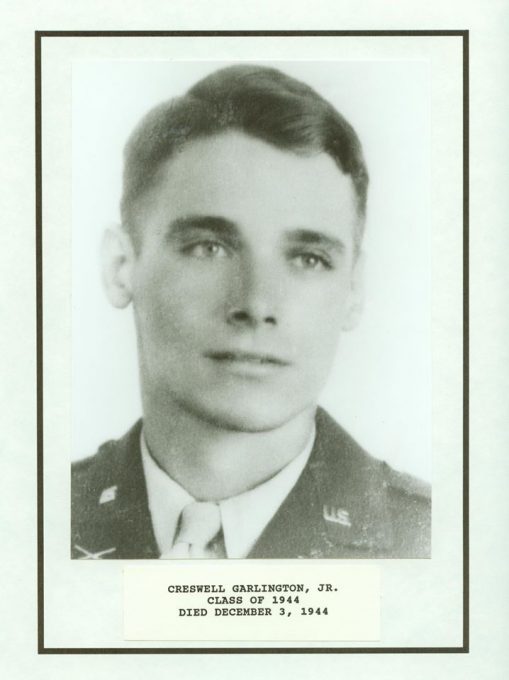 Albert's son, Earnest Albert Garlington, Creswell's Grandfather, was an 1876 graduate of West Point commissioned in the Cavalry and posted to the 7th Cavalry. He just missed Lt. Col. Custer and the 7th cavalry as they departed Fort Abraham Lincoln, North Dakota, on their ride into history. Earnest would be awarded the Medal of Honor for actions at Wounded Knee, South Dakota. He would also serve in the Spanish American War.
His son, Creswell Garlington Sr., a 1910 graduate of West Point would serve with the 77th Division in World War I and receive the Distinguished Service Cross and retire as a Brigadier General.
Creswell Garlington Jr., would continue that legacy in World War II…
2LT Creswell Garlington Jr., USA, received the Distinguished Service Cross (Posthumously) for extraordinary heroism in connection with military operations against an armed enemy while serving as a platoon leader, Company I, 335th Infantry Regiment, 84th Infantry Division, in action against enemy forces from 29 November to 1 December 1944. Second Lieutenant Garlington's platoon was temporarily stopped during an attack by the fire of four enemy machine guns approximately three hundred yards away. He crawled forward and with hand grenades eliminated two of the positions while a member of his platoon eliminated the other two. Later the same day, he and one of his men broke up enemy patrols which tried to infiltrate through their lines. On 30 November 1944, during an enemy counterattack, he and four of his men crawled to an advantageous point and killed or wounded sixty of the enemy. On 1 December 1944, Second Lieutenant Garlington carried a wounded member of his platoon through intense enemy artillery fire to a place of safety. While directing the fire of his men, an artillery shell hit approximately ten yards away. While at the aid station he insisted that others less seriously wounded be treated first and tried to show his men the position of a concealed enemy machine gun. Second Lieutenant Garlington's intrepid actions, personal bravery and zealous devotion to duty, exemplify the highest traditions of the military forces of the United States and reflect great credit upon himself, the 84th Infantry Division, and the United States Army.

General Orders: Headquarters, European Theater of Operations, U.S. Army, General Orders No. 24 (1945) Action Date: November 29 – December 1, 1944 Service: Army Rank: Second Lieutenant Regiment: 335th Infantry Regiment Division: 84th Infantry Division.
On December 3, 1944, 2LT Creswell Garlington Jr., Class of 1944, died at the 91st Evacuation Hospital of wounds received December 1, 1944 while serving as a platoon leader with Company I, 335th Infantry Regiment, 84th Infantry Division during Operation Clipper.
He was Twenty-Two years old.
Creswell's twin brother, Henry Finch Garlington, class of 1945 would leave The Citadel the same time as his brother for the Air Corps. He completed his pilot training and was assigned North Africa and his fighter group went to Italy where he was shot down and captured June 5, 1944. He spent over a year as a POW in Germany. Henry passed away in Savannah, Georgia, in 2019.
/SSmith