PETER FRANKLIN CURETON JR., '40
Born 4 June 1919 to Peter F. and Josephine Dickson Cureton in Greenville, South Carolina. After graduating The Citadel in 1940, "Frank" attended The University of the South at Sewanee as a special student in the academic year 1940 – 1941, taking basics courses in English, History, Greek, and Public Speaking. He was a member of Acolyte Guild and a member of the Kappa Alpha fraternity.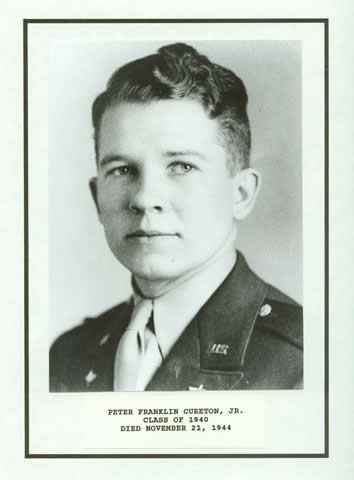 1LT Cureton was killed in action while serving as a pilot with the 427th Bomb Squadron, 303d Bomb Group (Heavy) based at RAF Molesworth, England. He was the recipient of 4 Air Medals and the Purple Heart.
On 21 November 1944, 1LT Cureton was piloting B-17G No. 43-38705 on a mission to bomb the Leuna Synthetic Oil Refinery at Merseburg, Germany. This was Cureton's 28th mission. After turning onto the bomb run, the formation experienced "intense and accurate" anti-aircraft fire. Eyewitnesses reported seeing Cureton's #3 engine on fire "with flames streaming back to the tail," and the #2 engine catching fire as the aircraft slid off to the right out of formation and losing altitude. Cureton salvoed his bomb load at about 18,000 feet. As the aircraft went down it seemed to be under control.
Cureton and his crew were initially reported as missing in action, but information received from the Germans confirmed eight dead and one prisoner of war. The aircraft crashed at 1140 near Frankleben.
Cureton and his crew were initially buried in the civilian cemetery in Frankleben, Germany. In September 1946 they were removed to the temporary U.S. Military Cemetery at St. Avold, France. Since they were buried in a common grave Cureton was initially designated as unknown X7041 until positive identification could be established.
In accordance with his family's wishes, 1LT Cureton was permanently interred in the Lorraine American Cemetery and Memorial, St. Avold, France where he rests' in peace in Plot E, Row 8, Grave 9. Four of his crew-members are also buried there.
He was twenty-four years old
/SSmith