ARTHUR BRADLEE HUNT, JR., Class of 1944
Born August 14,1920 to Arthur B. Hunt Sr. and Rosa Marie Viguerie Hunt in Ocean Springs, MS, Arthur entered The Citadel on September 20, 1940 with the class of 1944. Arthur and his classmates became "The Class that Never Was" when in the Spring of 1943 they were inducted into service and shipped off to basic training and then off to war.
Hunt successfully completed Officer Candidate School and was assigned to I company, 3d Battalion, 333d Infantry Regiment, 84th Infantry Division (Rail Splitters). Arriving in England 1 October 1944, they landed on Omaha Beach on 1 November (D+148) and rushed across France, and Belgium into Holland and within a week the Rail-splitters were attacking one of the strongest sectors of the Siegfried Line.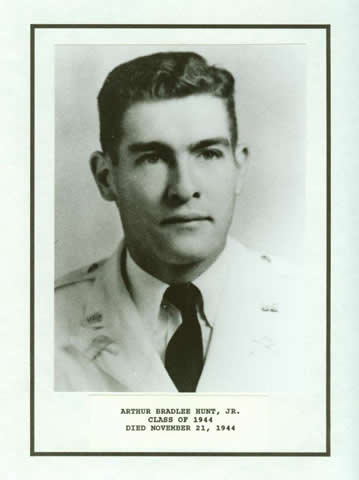 Lieutenant Theodore Draper in his book, "The 84th infantry division in the battle of Germany, November 1944 – May 1945," describes the actions of the division of. 19 November 25 November 1944.
"By taking Prummern, Geilenkirchen, Suggerath, we made an important dent in our sector of the Siegfried line.… By November 21, the 183rd Volksgrenadier Division which opposed us originally was battered almost beyond recognition and that at least one Regiment had to be disbanded. The defense of this zone was taken over by the elements of two superior outfits, the ninth Panzer Division and the 15th Panzer Grenadier Division. As a result, the likelihood that we could get something for nothing was reduced to the vanishing point. The German command knew that the best fortifications were worthless without soldiers to fight fiercely from them and they hasten to supply those soldiers before it was too late.… The first thing was to test the enemy frontally, to see what would happen if we tried to get to Beeck from Prummern and to Wurm from Suggerath, to advance if possible over the shortest and most direct route. Yet it was obvious that the road to Wurm and Beeck was much harder and longer than the number of yards might seem. It was not the number of yards that counted but the number of yards for which we had to fight."
At noon, November 21, the 333rd's Battalion began the attack on Mullendorf and Wurm from the outskirts of Suggerath. Company I moved out on the right of the Wurm River, Company K on the left, Company M in support from the raw high ground east of Suggerath. The six pillboxes on the high ground in front of the Mullendorf began to strafe them immediately. The enemy artillery had first rate observation. Direct fire of small arms was equally dangerous. Company K was able to advance about 100 yards in the first hour, but company I had to work its way even more slowly.
Unfortunately, the tanks were not in a position to help out as much here as they had elsewhere at critical moments. The roads were great splashes of mud. The main Suggerath – Wurm Highway was heavily mined. Two tanks tried to move forward to help Company K and were knocked out by direct hits. Company I was tangled up in the first pillbox, which was resisting fiercely. All that day the battalion tried in vain to smash through." It was during this fight on 21 November that Lieutenant Hunt was killed in action near Prummern, Germany.
Lieutenant Hunt was buried in the United States military cemetery at Margraten Holland in Plot H, Row 12, Grave 281 on 2 December 1944. Following the war his father opted to have him buried permanently in the Netherlands American Cemetery and Memorial where he rests in peace in Plot E, Row 6, Grave 18. There are eight other citadel alumni buried in the cemetery.
He was 24 years old.
The personal effects of deceased soldiers were inventoried by Graves registration and the unit and forwarded to the Army Effects Bureau at the Kansas City Quartermaster Depot, and from there forwarded to the next of kin. On 28 August 1946 Arthur's father, wrote to 2nd Lieutenant C. L. Rumfield, Assistant Effects Quartermaster concerning his son's effects that had been shipped. "Sir, over a year ago I wrote you asking that you make an effort to locate some personal effects of Lieutenant Arthur B Hunt Junior and that what you had sent could not possibly belong to my son. In fact, what you did send looked as though it had been swept from the floor of a warehouse. Shoes, e.g. Size 8 – my son wore a size 10. A jacket with sleep cuff worn out, two or three sizes too large. Torn undershirts marked with the wrong number. A few small coins, two keys. As far as I could see there was not one personal effect of Lieutenant Hunt."
"He was very proud of his Citadel Class ring – we never received that nor any papers – pens- no watch no wallet."
"I wrote you asking you to please see if you could locate something personal. It may not have been your office at fault so I did not press the matter further. Lieutenant Kirksey did turn over some things to my daughter Mrs. E. C. Applegate whose husband was aide to General Marshall for several years."
Hunt's father also wrote his members of congress to assist in the search for his son's personal effects.
Lieutenant Robert H Kirksey served with Hunt and company I. Before they left England, Hunt had packed several items in Kirksey's footlocker including his dress uniform. When Lieutenant Kirksey received his footlocker upon returning to the United States he found Hunt's uniform and other items still in it. He made arrangements to give these items to Hunt's sister, Mrs. E.C. Applegate, when he visited Charleston after the war.
What ever became of his class ring is unknown.
/SSmith