FORREST HUGH COLEMAN JR., Class of 1930
Born August 6, 1909 to Forrest Hugh and Alice S. Coleman in Laurens, South Carolina, he entered The Citadel with the class of 1930. After his plebe year, he returned home and enrolled at Clemson College in 1929 with the class of 1933. No doubt due to his Citadel training, Coleman was selected as the Best Drilled Cadet during his sophomore year of 1930. Graduating in 1933 with a degree in Electrical Engineering and a commission in the reserve corps.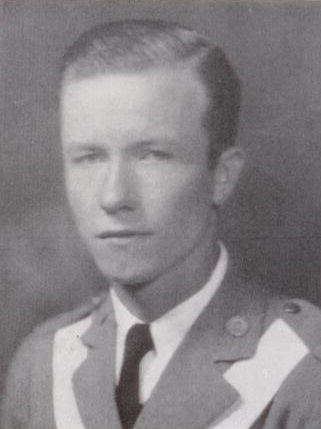 Coleman married the former Caroline Burroughs of Augusta, Georgia. They were the parents of a daughter, Sue, and son, Forrest Hugh III.
Called to duty in November 1942, Coleman had already passed his 33rd birthday, making him senior to most of the men with whom he would soon be serving. 1LT Coleman was killed in action on November 20, 1944, while serving with the 7th Infantry Regiment, 3d Infantry Division in the vicinity of Saint Michel-sur-Meurthe in the Vosges region of France.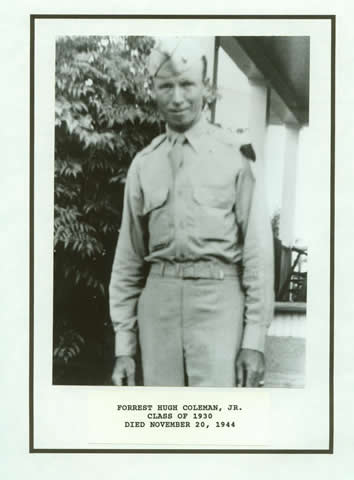 Jeffrey Clark and Robert Ross in their book "Riviera to the Rhine," part of the Army's Green Book series write of the actions during 19-25 November 1944, "[T]roops of the 7th Infantry advanced a few miles inland and then pushed southwest, securing the area around St. Michel-sur-Meurthe, where they found few Germans but took heavy casualties from mines and booby traps. Around one small hamlet, for example, mines alone accounted for nearly 150 casualties within the regiment."
Coleman was buried in the U.S. Military Cemetery at Epinal, France. Following the war, at the request of his widow, he was repatriated in August 1948 and buried at Westview Memorial Park in Laurens, SC. He is memorialized on The Citadel War Memorial, the Clemson University Scroll of Honor Memorial, and the Laurens War Memorial.

He was thirty-five years old.
/SSmith