WILLIAM MILLING ROYALL, '42
Born May 20, 1921 to Sam J. and Elizabeth Wilcox Royall in Darlington, South Carolina, "Billy" was a 1938 graduate of Florence High School and a 1942 graduate of The Citadel. Commissioned in the infantry upon graduation, he served at Fort Benning, Georgia, Camp Breckinridge, Kentucky, Fort Huachuca, Arizona, and Camp Van Dorn, Mississippi.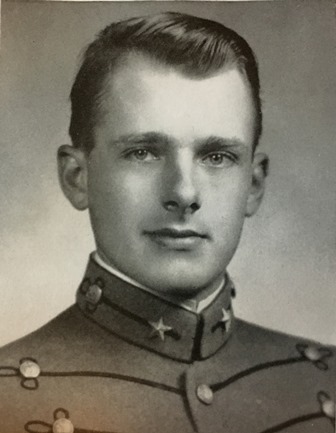 Shipping to Europe on September 1, 1944, Royal was assigned from the officer replacement pool to K company, 115th Infantry Regiment, 29th Infantry Division with duty as a platoon leader on October 4, 1944.
Charles R. McDonald, in his book" The Siegfried Line Campaign," part of the Army's Green Book series recounts the events of 18-19 November. "By the end of 18 November, the 29th Division had broken the crust of the enemy's 246th Division and in taking Siersdorf and Bettendorf had broken into the outer defensive arc of Juelich. On 19 November the division pushed into the next two villages, Duerboslar and
Schleiden."
Royall was initially reported missing in action on 19 November and later confirmed killed in action on 26 November. His last letter home was dated November 11, 1944. He was buried in the United States Military Cemetery at Margraten, Netherlands, November 27th 1944. His father Sam J. Royall, a World War I veteran requested he be permanently interred at Margraten where he rests in peace in Plot D Row 15 Grave 3. He was posthumously awarded the Silver Star and Purple Heart medals.
He was twenty-three years old.
At Homecoming, December 3, 1949, his mother, Mrs. Elizabeth Alston Wilcox Royall, representing all Citadel mothers, unveiled The Citadel's memorial tablets on Summerall Chapel listing those Citadel men who died in service during the War Between The States, World War I and World War II.
/SSmith