WILLIAM ALVIN HENSON, II, Class of 1944
Born June 8, 1923 to William A. and Gertrude L. Henson in Atlanta, Georgia, William was a graduate of Conyers High School and had completed two years at The Citadel before enlisting in the Air Corps. He was married to Harriet Whisnant of Summerville, Georgia and had served overseas since April, 1944, assigned to the 544th Bomb Squadron, 384th Bomb Group (Heavy).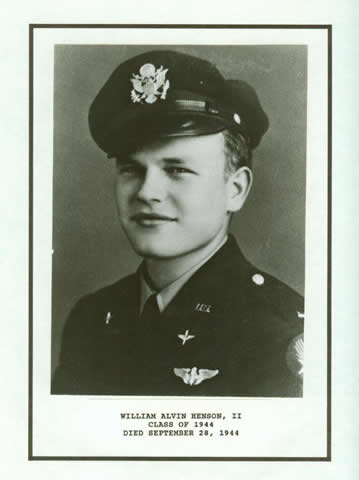 Originally trained as a Bombardier, Henson cross-trained as a Navigator. On his 26th mission, September 28, 1944, a mission to bomb industrial works near Magdeburg, Germany, he flew as lead navigator on B-17G #43-37822 "Lead Banana." With heavy flak and weather obscuring the target on the initial bomb run, the 384th attempted another run on the target. After bombs away the group had to maneuver to avoid crossing course with another formation. It was during this maneuvering that B-17 G #42-31222 "Lazy Daisy" of the 384th's 545th Bomb Squadron cut across the 544th' s path, narrowly missing another B-17 and colliding with "Lead Banana."
Henson and his crew were trapped in the fiery wreckage except for the waist gunner who was able to bail out. The entangled aircraft plummeted down in a fireball, separating during the descent crashing in the separate locations of Ostingersleben and Erxleben, Germany. They were the only two aircraft lost that day for the 384th Bomb Group.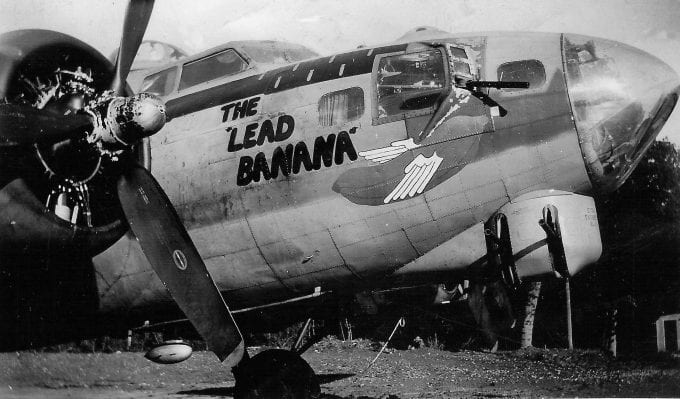 Initially reported as missing, Henson was confirmed dead by German authorities in December 1944, the same month Henson's daughter was born.
Lt. Henson and the other members of his crew were initially buried by the Germans in the cemetery at Ostingersleben, Germany. Following the war they were moved to the US Military Cemetery at Margraten, Netherlands. In 1949, at the request of his family, Lt. Henson's remains were returned to the US and buried at Eastview Cemetery, Conyers, Rockdale County, Georgia, USA.
He was 21 years old.
/SSmith