FREDERICK DAVENPORT MELTON, Class of 1945
Born 15 August 1924, in Americus, Georgia, to Oliver Quimby and Mary Davenport Melton, "Fred" attended Griffin High School in Georgia and graduated from Baylor School in 1941, attending The Citadel for one year in preparation for the entrance examinations for the service academies. Not yet 18 years old he could not join one of the services without parental consent.
Melton attended summer school and fall quarter at the University of Georgia where he was admitted into advanced classes of ROTC because of the military training he received at Baylor and The Citadel. As soon as he turned eighteen he volunteered for active service. Selected for Cavalry Officer Candidate School at Fort Riley, Melton received his commission before he was nineteen years old.
Melton sailed for Europe on 11 August 1944 with eight other replacement officers, arriving in France on 26 August. Assigned to the 113th Cavalry Reconnaissance Squadron, Melton took over as Third platoon leader of B troop on 2 October 1944.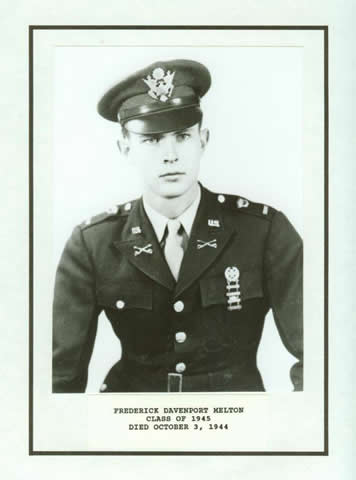 At 0900 on 3 October the 2nd and 3rd platoons moved dismounted to take the town of Havert, Germany. Small arms fire drove these platoons back and they went into a defensive position. Realizing that he had wounded men left on the field Lt. Melton moved to their aid. For his actions he was awarded the Silver Star. His citation reads:
"For gallantry in action on 3 October 1944 near Havert, Germany. Lieutenant Melton was leading his platoon in an attack on Havert, Germany. Intense enemy fire was encountered and four of his men were wounded. Lieutenant Melton helped evacuate the wounded men and despite the continued heavy enemy fire moved to each spot where his men were in the most difficulty; encouraged and inspired them to continue the attack. In rendering aid to a fifth wounded man, Lieutenant Melton was mortally wounded."
Because enemy action compelled their withdrawal, the surviving members of Lt. Melton's platoon had no choice but to leave his lifeless body on the field. When the area was finally captured, Lt. Melton's body could not be located. Following the war, a body was recovered from an isolated grave in the town of Havert by the graves registration service and buried as an unknown designated X-187 in the U.S. Military Cemetery at Margraten 1 April 1945.
Lt. Melton's father wrote the War Department in March 1945 requesting to know where his son was buried. It had been Lt. Melton's wish to be buried near where he fell, but the Graves Registration Service was unable to provide the information. It was not until January 1946 that the Graves Registration Service positively identified X-187 as 2LT Fredrick D. Melton.
In accordance with his wishes, Melton's father had his remains permanently interred in the Netherlands American Cemetery where he rests today in Plot D Row 10 Grave 6.
Before shipping out he told his father, "Pop I believe my chief duty is to look after the men under me–and I 'm going to do just that."
He was just 20 years old.
/SSmith