WAVERLY OWEN SKIDMORE, Class of 1946
Born 24 September 1924 to Lloyd J. and Mattie Owen Skidmore in Albemarle, North Carolina, Waverly entered The Citadel with the class of 1946. In November 1942 the induction age was lowered from 21 to 18 making the majority of the class of 1946 eligible for induction. Waverly, registered for the draft shortly after his birthday on 24 December 1942, he was inducted 12 August 1943.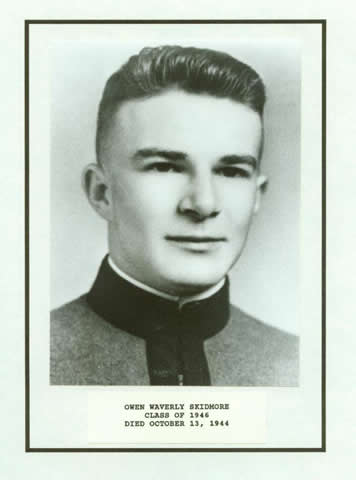 A veteran of the Normandy campaign, he was wounded on 26 August 1944 on the second day of Operation Cobra as the 60th Infantry regiment battled with elements of the Panzer Lehr division. Evacuated to England to recuperate, he rejoined his regiment for the battle of the Hurtgen Forest. This area of Germany, the official Army history described as,
"a seemingly impenetrable mass, a vast, undulating, blackish-green ocean stretching as far as the eye can see. Upon entering the forest, you want to drop things behind to mark your path, as Hansel and Gretel did with their bread crumbs."
It was during this battle on 13 October that he died of wounds received in action while serving with K company, 3d battalion, 60th Infantry Regiment, 9th Infantry Division.
PVT Skidmore was buried in the temporary U.S. Military Cemetery at Henri-Chapelle, Belgium. His father did not want his son moved from the original place of interment and had desired to have his remains returned to the United States for burial if Henri-Chapelle were not selected as a permanent cemetery.
Today Pvt. Waverly Owen Skidmore rests in Plot A, Row 14, Grave 2, in the Henri-Chapelle American Cemetery and Memorial and is one of five Citadel alumni buried there.
He was 19 years old.
/SSmith