JULE C. HANCOCK, JR., Class of 1946
Born to Julius C. and Bernice Cannie Hancock on 18 December 1924, Jule enter The Citadel with the class of 1946 and enlisted in the Army at Fort Jackson, SC 8 April 1943.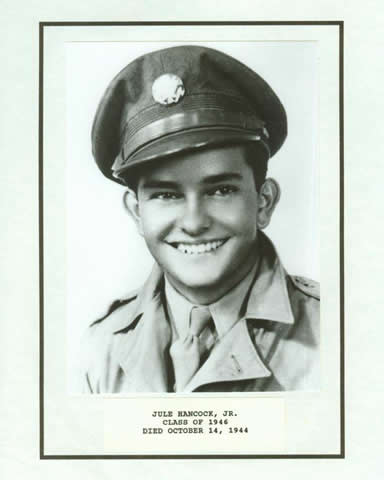 Staff Sergeant Hancock was killed in action while serving as a ball turret gunner with the 514th Bomber Squadron, 376th Bomber Group, 15th Air Force.
Flying out of San Pancrazio, Italy, Hancock's aircraft, B24J #42-51719 was the lead ship of a mission to bomb a railway bridge at Maribor, Yugoslavia. Over the target his aircraft was hit by antiaircraft fire. Witnesses reported that shortly after bombs away, the pilot feathered the number three engine and then peeled to the left out of formation in a shallow dive. Two chutes were observed and shortly thereafter the right wing broke off and two more chutes observed. Hancock was last seen in the waist section by the escape hatch.
Hancock and five other members of his crew trapped in the wreckage were buried in the Belgrade Cemetery, Belgrade, Yugoslavia. Only Co-pilot 1Lt. Clyde Armstrong is still listed as missing and is memorialized on the walls of the missing at Florence American Cemetery and Memorial at Impruneta, Italy.
In accordance with his mother's wishes, Jule Hancock was permanently interred in the Sicily-Rome American Cemetery and Memorial at Nettuno, Italy where he rests in Plot I, Row 1, Grave 69. His pilot and radio operator rest nearby in Plot G.
He was 19 years old.
/SSmith