JEROME CHRIS SERROS, Class of 1941
Born 5 October 1919 in Georgia to Nicholas and Antonnette Serros, he was from Orlando Florida. He attended The Citadel for two years. He enlisted as an Aviation Cadet at MacDill Army Air Corps Base 31 October 1941.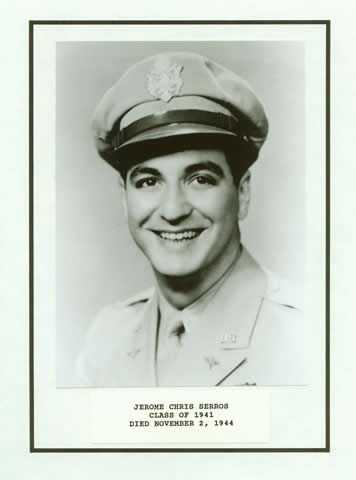 Assigned to the 55th Fighter Squadron, 20th Fighter Group, 8th Air Force, CPT Serros was flying P51D-5NA-44-13838 "Okie Blokie" on November 2, 1944, during a mission escorting bombers to Merseberg, Germany. Serros experienced a mechanical problem and loss of coolant about ten miles West of Quackenbruck, Germany. He radioed that he was returning to base and turned out of formation. He was seen to enter an uncontrolled spin and although there was sufficient altitude to bail out no chute was observed.
His remains were eventually recovered and buried in the temporary U.S. Military Cemetery at Neuville-En-Condroz where, in accordance with his family's wishes he was permanently interred. He now rests in Plot B Row 41 Grave 2 at the Ardennes American Cemetery and Memorial at Neupré, Belgium.
He was 25 years old.
/SSmith