James Tredway Dixon, Class of 1936
Born 11 September 1913 to Mr. and Mrs. James H. Dixon of Mullins, SC, James attended The Citadel and the University of Richmond. He married Ms. Earnest Hope King on 16 July 1938 and they had a daughter, Judith King Dixon born 14 September 1941. Dixon entered service 12 August 1942.
1LT James Tredway Dixon, class of 1936, was serving with Company B, 2nd Infantry Regiment, 5th Infantry Division when he was killed in action 27 July 1944 during Operation Cobra about eight miles east of St. Lo, at Vidouville, Normandy, France.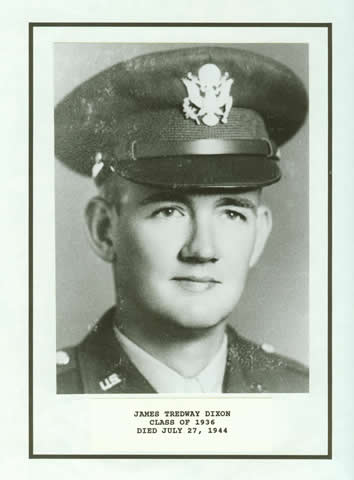 His awards include the Purple Heart Medal, Bronze Star Medal, WWII Victory Medal, American Defense Service Medal and European, African, Middle East Campaign Medal.
LT Dixon was interred in the temporary military cemetery at St. Laurent, Bayeux, France and returned at the request of his family for final interment at the Chatham Burial Park, Chatham, Pittsylvania County, Virginia, USA.
/SSmit