Roland Louis Luerich, Jr., '42
Born on December 16, 1916, in Milford, PA, and raised in Elizabeth, NJ, Roland Luerich, Jr., was the son of a Methodist minister who served as a chaplain in the first World War.
At The Citadel, he majored in Civil Engineering and was a member of the varsity boxing squad for three years. He was a Cadet Private throughout his four year study and was a member of Cadet Company "I" his first two years and "H" the last two.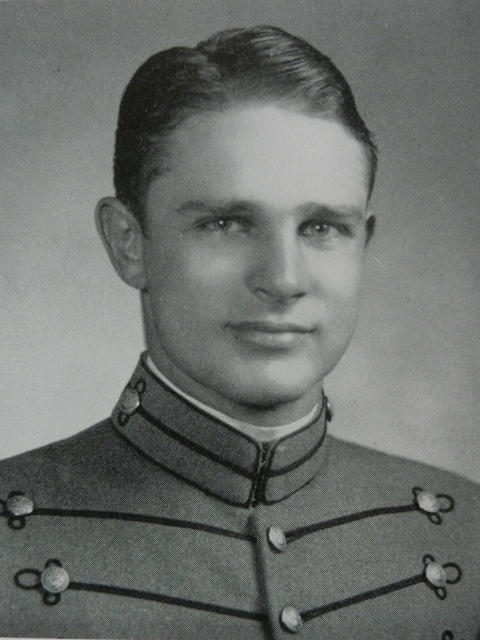 Cadet Private Roland Louis Luerich, Jr., Class of 1942
Called to active duty on graduation, as a second lieutenant coastal artillery, he transferred to the Corps of Engineers prior to shipping overseas. He was a veteran of the North Africa, Sicily and Italy landings. First Lieutenant Roland Luerich, Jr. served as a combat engineer in the 175th Engineering Battalion before transferring to Company "A", 16th Armored Engineer Battalion, 1st Armored Division.
His unit was involved in the May breakout from the Anzio beachhead and was driving towards Rome when he was killed in action on June 4, 1944. He was posthumously awarded the Silver Star Medal.
His Silver Star Medal commendation reads:
"For gallantry in action on 4 June 1944 in the vicinity of Rome. When reconnaissance indicated the necessity for constructing a bridge over an obstacle before the advance on enemy objectives could proceed, Lieutenant Luerich went forward with such a bridge. It was found that the bridge could not be put into its proper position. The pin, enabling it to do so, failed to release itself. Realizing the importance of opening the bridge, for immediate use by armored vehicles, Lieutenant Luerich courageously exposed himself to direct enemy sniper fire by crawling out on the bridge and releasing the pin himself. The bridge immediately fell into its proper position and the combat command of which Lieutenant Luerich was a member proceeded toward its objective. Later in the day. Lieutenant Luerich was killed in a fire fight with an enemy strong point overlooking a road down which our own armor had to pass. The courage, and devotion to duty displayed by Lieutenant Luerich reflects the highest traditions of the armed forces and deserves a full measure of praise."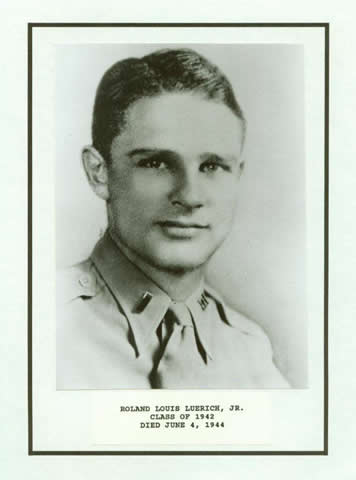 He was buried in the temporary U.S. Military Cemetery at Anzio-Nettuno. Following the war, his body was repatriated and interred in his final resting place at Graceland Memorial Park, Kenilworth, New Jersey.
At the close of his letter to The Citadel with the news of his son's death, Reverend Luerich wrote, "No doubt the Citadel list of casualties will be long before this struggle is over. But what a heritage The Citadel has."
/RL
Memorial photo courtesy of The Citadel Museum and Archives, Charleston, S.C.
Cadet photo source: 1942 Sphinx, Annual of the South Carolina Corps of Cadets, Charleston, S.C.
Sources:
1942 Sphinx, Annual of the South Carolina Corps of Cadets, Charleston, S.C.
The News and Courier, Charleston, S.C., Wednesday, July 26, 1944, p.7
http://www.custermen.com/AtTheFront/Biographies/Luerich.htm
Findagrave.com
Ancestry.com