JOHN KENNETH ZAHN, JR., Class of 1946
On September 11, 1944, while serving as an ammunition handler with weapons platoon, F company, 2nd battalion, 134th Infantry regiment, 35th Infantry Division, PFC Zahn was reported missing in action .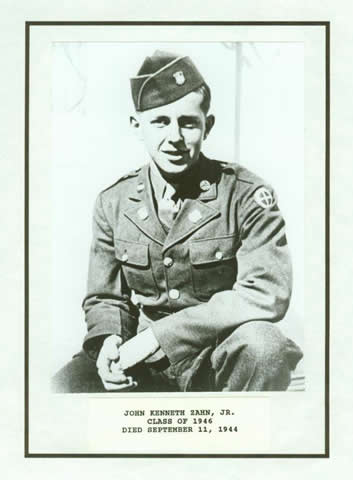 For the period 1 thru 30 September 1944 the 134th Infantry regiment suffered 82 killed, 585 wounded, and 378 missing in action. On 10 September the 2nd Battalion attempted to secure a bridge across the Moselle River near Flavigny-sur-Moselle, France, but suffered heavy casualties from artillery and small arms fire which delayed their crossing enabling the enemy to destroy the bridge.
From 11 to 13 September the battalion continued to patrol the west bank of the Moselle and it was during this time that Zahn was reported missing in action. His status would be changed on 13 October 1944 to killed in action.
PFC Zahn was interred in the temporary US Military Cemetery Andilly, France and in 1949 at the request of his family, returned to the US for burial in Arlington National Cemetery. He received the Combat Infantry Badge, the Bronze Star Medal and Purple Heart.
He was 20 years old.
/SSmith