JAMES GOODLETT THORNTON, JR., '40
On D-Day, Captain Thornton should have been on Omaha beach commanding a company of tanks and giving cover to the infantry. Unfortunately, his duplex-drive tank "rolled gracefully" out of the LCT into the rough sea and sank almost immediately. He and his crew were fished out of the channel, taken to a hospital ship, and given some dry clothes.
On June 7, Captain Thornton succeeded in getting transportation to the beach where he joined an infantry platoon which was moving inland. After locating the battalion area, he left the platoon and rejoined this unit.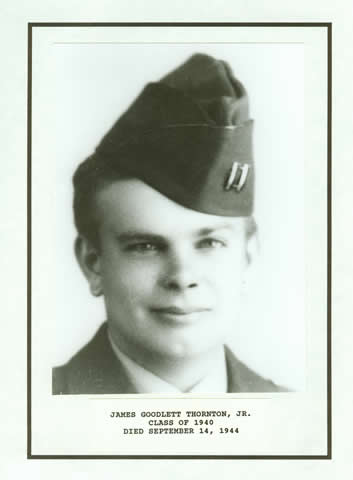 Commanding B company through the battle of the hedgerows, the breakout and pursuit across France, Capt. Thornton led them through Luxembourg and into Germany. On September 14th, while leading his company in the attack toward the high ground south east of the village of Sevenig Germany, the enemy resistance was fierce and one of Capt. Thornton's tanks was disabled by a mine. Two other tanks were hit by anti-tank fire, disabling one and destroying the other. Members of Thornton's company reported seeing his tank hit three times and destroyed.
Thornton was declared missing in action. He was the recipient of the Bronze Star Medal with Oak Leaf Cluster and the Purple Heart. In 1945 he was administratively declared dead. He is memorialized on the tablets of the missing at the Luxembourg American Cemetery and Memorial and at Oakdale Cemetery, Wilmington, North Carolina, USA.
He was 26 years old.