THOMAS LEA HUTCHINGS, JR. Class of 1941
Born August 23, 1919 to Thomas L. and Sara Bourne Hutchings, Thomas graduated from Sumter High School and entered The Citadel in August 1937. He left The Citadel after two years having received an appointment to West Point. He was graduated June 1st 1943 and commissioned in the Infantry.
Lt. Hutchings was assigned to the 110th Infantry Regiment, 28th Infantry Division. The Division arrived in France on July 22, 1944(D+48) and entered the battle of the hedgerows north and west of St. Lo. After parading through Paris 29 August, the division continued across France and passed through Belgium east of Sedan. Crossing the border near Binsfeld, Luxembourg. The Division was the first to enter Germany on 11 September 1944.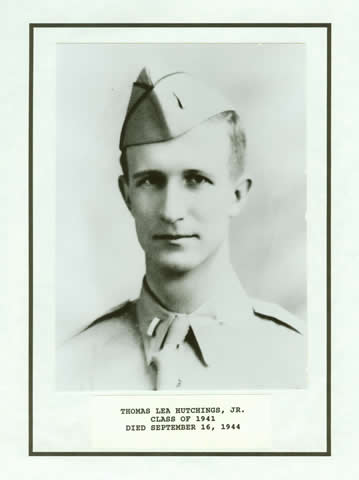 The 109th and 110th Infantry regiments began hammering the West Wall fortifications on 12 September. After five days of fierce fighting the 110th Infantry had progressed a mile and a half past the line of dragon's teeth, capturing some of the most commanding ground for miles and for all intents and purposes had broken through the West Wall. However, having incurred almost 1,500 casualties, the two regiments of the 28th Division were in no condition to expand or exploit the 110th Infantry's penetration. The majority of the Division's casualties for the month of September were incurred in these five days.
Lt. Hutchings was killed in action on September 16, 1944, and was initially buried in the temporary United States Military Cemetery St. Avold, near Metz, France. In 1949 his remains, at the request of his family, were returned to the United States for burial in Elmwood Cemetery and Annex, Georgetown, Georgetown County, South Carolina, USA.
He was 25 years old.
/SSmith