Waverly Owen Skidmore, Class of 1946
Owen Skidmore was born on September 24, 1923, to Mattie Owen and Lloyd J. Skidmore of Albemarle, North Carolina. After graduating from Albemarle High School in June, 1942, he entered The Citadel with the Class of 1946 at the beginning of the academic year 1942-43. In the South Carolina Corps of Cadets, he was a member of Cadet Company K during this Freshman, and only, year at The Citadel. At the end of the first semester, he registered for the draft. His draft card, completed December 24, 1942, listed him as 5'7", 132 lbs, brown hair and eyes, with a "ruddy" complexion. He would be inducted into the Army at Fort Bragg, N.C., on August 12, 1943.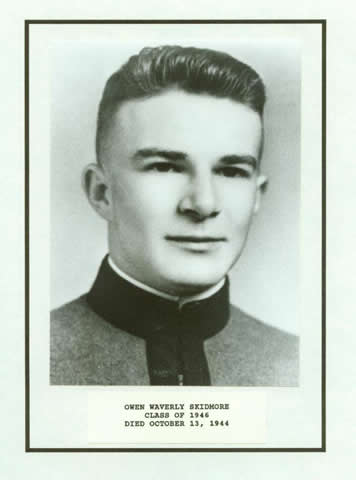 Private Owen Skidmore wrote his parents, in a letter they received August 2, 1944, that he was wounded on July 26, receiving chest and head wounds, and was recuperating rapidly in a hospital in England. He soon returned to combat on the continent. On October 13, 1944, he died of wounds he received during the fighting in the Hurtgen Forest in Germany. He and his unit, the Company K, 60th Infantry Regiment, 9th Division, were involved from 6 – 16 October in the first attack on Schmidt. The attack had two objectives – divert attention away from the attack on the German city, Aachen, and the capture of the Roer River dams. His Citadel classmate, Thomas F. Woodhead serving with Company F, was wounded the same day less than a kilometer away.
---
See also: More than a name in marble
---
Private Skimore was laid to rest at the 1st Army Cemetery at Henri-Chapelle, one of the temporary cemeteries that became permanent. He now rests in peace at Plot A Row 14 Grave 2, Henri-Chapelle American Cemetery in Belgium. His classmate, Walter S. Covington, Jr., who was also killed-in-action in the "Huertgenwald" two months later is buried close by. In total, five Citadel Men are interred at the cemetery.
VFW Post 2908 in Albermarle is named in Private Skidmore's honor. His brother, Lloyd, Jr., also served in the US Army in the European Theater during WWII. He retired as a Colonel and veteran of WWII, Korea and Vietnam.
Photo courtesy of The Citadel Archives and Museum, Charleston, South Carolina.
/RL