Edwin Browning Moore, Class of 1944
E.B. Moore was born on September 19, 1923 in Manila, Philippine Islands. His father, William C. Moore, Class of 1915, was a career Army officer, and the family moved many times in Edwin's early years. Records show a few of their many residences included Gainesville, FL (1930), where his father was a military instructor at the University of Florida; Fort Davis, Panama Canal (1935); and Charleston, SC, (1938-1940 where his father was a military instructor at The Citadel. Edwin's parents were married in 1918 in Columbus, Georgia. His mother, Dorothy Rodgers Moore, was from Charleston.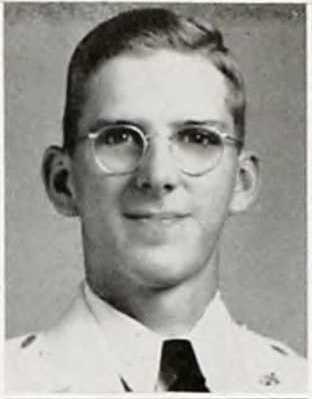 Cadet Sergeant Edwin Browning Moore, Class of 1944
Edwin's father, Maj. William Cheney Moore, USA, was promoted to Lieutenant Colonel while at The Citadel. He was an Associate Professor of Military Science and Tactics and headed the Infantry Unit during the 1939-40 academic year. Working with him were two of his Citadel classmates, Maj. Robert Kirk, USA, and Maj. Roy Hilton. The 1940 Sphinx recorded, "Because they are alumni of The Citadel, they are able to assist cadets in coping with the various problems that confront them." Back in 1915, Cadet Captain W.C. Moore had commanded Cadet Company D. He excelled academically, graduated with honors, and was awarded a jeweled saber.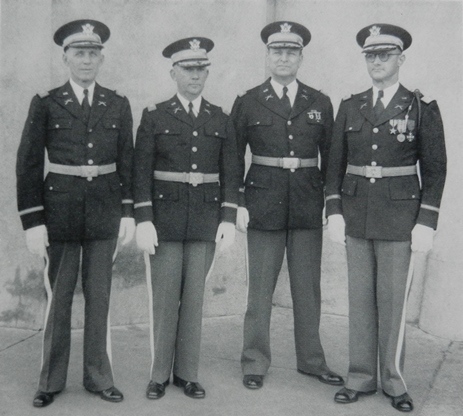 LtCol. W.C. Moore, Maj. Kirk, Col. Holliday (Commandant & Prof. Mil. Sci. and Tactics), Maj. Hilton
At the end of August 1940, Edwin entered The Citadel with the Class of 1944 and was assigned to Cadet Company B. The following year, he was made a Cadet Corporal. His junior year, he was a Cadet Sergeant and moved to Cadet Company A. Throughout his study, he was an active member of the Sons of the American Revolution as well as the Music Club and the Glee Club. An article in Greenwood, SC's Index-Journal announced a performance of the Glee Club at Lander College on February 28, 1942, and listed Edwin as a second tenor.
Edwin was a member of "the class that never was". He and his classmates were enlisted into the Army during their junior year and then allowed to finish the academic year. But immediately after the the Class of 1943 graduated in May, Edwin and his classmates were sent to Army basic training, and the Class of 1944 never had their senior year. Duty called and they answered. Most were then placed in ASTP until they could attend (infantry) Officer Candidate School at Ft. Benning, GA. Following completion of OCS, Edwin reported to Camp Shelby in Mississippi and was assigned as a rifle platoon leader in Company A, 271st Infantry Regiment, 69th Infantry Division. Edwin's Citadel classmate and brief college roommate of a month, Archie "Lee" Chandler, joined Company A in August 1943 after completing OCS at Ft. Benning.
According to Lee Chandler, Edwin could have gotten a deferment to attend the seminary. "He was an Episcopalian and I was, too. I kept telling him, 'Well, you know, E.B. We're going to need priests, too.' And he said, 'No, but I'm going to do my thing first, and then I'm going to go to seminary.'"
The Regiment departed by train from Camp Shelby on October 31 bound for Camp Kilmer, New Jersey. There they prepared for movement overseas. On November 14, they departed Camp Kilmer by train and later boarded the MS John Ericcson. The regiment debarked at Southampton, England two weeks later and traveled to Winchester where they were billeted in the Winchester Barracks. There they trained and waited for their eventual deployment to combat on the continent.
The HMS Liangiby Castle, with the 271st on board, left Southampton, England on January 20, 1945 and arrived at Le Havre, France, 20 hours later. The regiment quickly boarded trains while still damp from their debarkation and starting their move East. There were several pauses along the way to the front. Finally, on the 10th of February, the battle-green 271st relieved the battle-hardened 395th Infantry Regiment of the 99th Infantry Division at the Siegfried Line in the vicinity of Hollerath, Germany which lies little more than a kilometer from the Belgian border. Not more than two months before, in the nearly the same spot, the German 277 Volksgrenadier Division had attacked through the area and the 393rd of the 99th in the early morning hours of December 16, 1944.
The Regiment settled into its positions looking out from their ridge line across the valley at the ridge line held by the Germans. For two weeks, the Regiment conducted extensive patrols to gauge the enemy's strength and disposition and in return was subjected to harassing artillery supplemented by "screaming meemies".
The Regiment finally received its orders to attack the Germans, and the 69th's unit history recorded…
"On the morning of 27 Feb. 1945, the 69th Division attacked with two regiments abreast with the mission of seizing and holding the high ground between Honningen and Gescheid. In the north the objective had 'been taken by 0900; in the south the objective was taken by 1100, and six towns had been overrun: Honningen, Buschem, Dickerscheid,Giescheid, Rescheid and Oberreifferscheid. This was where our training with the artillery insured the quick success of the infantry. For months in the States we had trained with the close support of artillery. Now we had plenty, 15 battalions in all. The artillery sure sounded good going over to the Germans. Attached to the Division at this time was the 661st Tank Destroyer Battalion which did a marvelous job of supporting in the initial attack and continued to do the same job in our battle across Germany."
A Company was charged with taking Hill 630. Although official records list Edwin as killed in action on March 1, 1945, by eyewitness accounts he was killed at the beginning of the attack on February 27th. Sergeant Franklin Haught of A Company later wrote,
"We saw Lt. Edwin Moore on the ground and as far as I knew, he was the first man to die from A Company. The lieutenant was much liked and highly respected in A Company. I don't think he was killed by the machine gun fire. All I saw was a small mark above his left eye. I immediately thought of a German sign I saw as we advanced to relieve the 99th Division. 'Minen.'"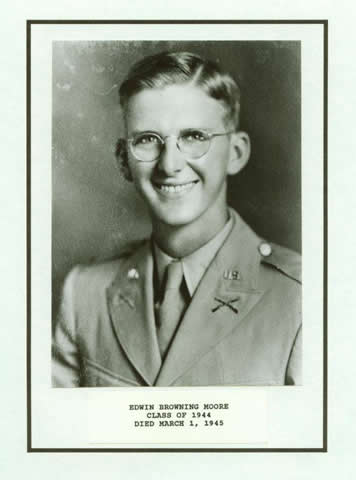 Edwin's Citadel classmate Lee Chandler was commanding a machine gun platoon on the 27th. He recalled, "E.B. Moore was killed in that first attack and some of the enlisted men knew that he'd been a friend of mine. And he was a lieutenant in the rifle platoon. And one of them ran over to me before I took off to try to reconnoiter. He came up to me and said Lieutenant Moore was killed." Later that day, 2Lt. Chandler was wounded. Eventually he was evacuated to the American hospital in Paris. He returned to the Regiment after his recovery. Lee Chandler continued, "I never did know him all that well because I just had him for a roommate that short period of time, but he wrote a real nice message in my yearbook, you know. 'I really do hope we'll be together a whole lot more in the future.' He wrote that in my yearbook before we left The Citadel."
Edwin had two older brothers, William, Jr., Robert Vernon, and a younger sister, Dorothy. All three graduated from the College of Charleston where both brothers were members of the Pi Kappa Phi fraternity. William Cheney Moore, Jr., joined the army and was commissioned a second lieutenant. He served with the 179th Infantry Regiment, 45th Infantry Division in Italy were he was wounded in combat and later died of his wounds on December 16, 1943. He was buried at Fratelle, Italy. Vernon graduated in 1944 with a degree in Chemistry and immediately joined the Army to serve in World War II. After both of his brothers were killed in action in Europe, Vernon was held stateside and served in the Army Air Corps as a flight instructor for the B24 and B25 bombers.
Second Lieutenant Edwin Browning Moore was buried at the US First Army military cemetery at Henri-Chapelle, Belgium. Following the war, the bodies of Edwin and William, Jr., were repatriated and laid to rest at Beaufort National Cemetery in South Carolina. William Cheney Moore, Sr., was promoted to Colonel in 1946. In 1981 he passed away and was laid to rest between his sons at Beaufort.
/RL