Hugh Vanderveer Batchelder, Class of 1945
Born in New Jersey on February 2, 1925, to Mrs. Jessie P. Hale Batchelder and Colonel Roland C. Batchelder, Hugh grew up in New Hampshire, first in Canaan, then Littleton, and finally Deerfield. He had three brothers, Theodore, Robert and George; and a sister, Jessie. His older brother, Theodore, preceded him to The Citadel by a year. Hugh's father, Col. Batchelder, was a veteran of WWI, a 1921 graduate of Dartmouth college, a high school teacher and principal, served in the Quartermaster Corps during WWII, and later was elected to the New Hampshire state legislature.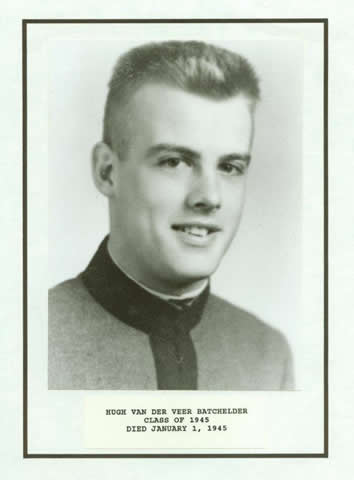 Cadet Corporal Batchelder was a member of Cadet Company "M" his sophomore year. He was awarded Gold Stars in recognition of his superior academic achievement of earning a 3,7 grade point average or higher over a semester. He was also a member of the International Relations Club which was notable as membership for sophomores was limited to only outstanding Political Science and History majors. Following completion of the 1942-43 academic year, Hugh entered military service in the U.S. Army. His brother, Theodore, had left The Citadel in 1941 after completing his freshman year to attend the United States Naval Academy at Annapolis, Maryland.
Staff Sergeant Batchelder served with Company "A" of the 62nd Armored Infantry Battalion, 14th Armored Division, 7th Army. He was killed in action on January 1, 1945, during the first day of the German's last major counter-offensive of WWII, Operation Nordwind. The 62nd Armored Infantry Battalion was caught in the thickest part of the fighting around Philippsbourg, France, in the Vosges mountains, and was soon overrun or by-passed by the enemy.
S/Sgt. Hugh Vandeveer Batchelder was buried at the U.S. Military Cemetery at St. Avold, France. His body was repatriated after the war and interred in his final resting place at Morrison Cemetery, Deerfield, New Hampshire on July 22, 1949.
/RL
Photo courtesy of The Citadel Archives and Museum, Charleston, South Carolina.
Sources:
1943 Sphinx, Annual of the South Carolina Corps of Cadets. 1943, Charleston, S.C.
Stauffer, Alvin P. US Army in WW 2:The Quartermaster Corps:Operations in the War Against Japan. 1956. Center of US Military History, US Army. Washington. D.C.
United States. Army. Quartermaster General's Office. Rosters of World War II Dead (all services). Washington, D.C.: U.S. Army.
Applications for Headstones for U.S. Military Veterans, 1925-1941. Records of the Office of the Quartermaster General, Record Group 92. National Archives at Washington, D.C.
US Federal Census 1930, 1940
"New Hampshire, Death and Disinterment Records, 1754–1947." Online index and digital images. New England Historical Genealogical Society. Citing New Hampshire Bureau of Vital Records, Concord, New Hampshire.
Ancestry.com
Findagrave.com
http://www.lambdachi.org/blog/candc/history-theta-chapter-at-dartmouth-college/