John Evans James, Jr., Class of 1944
Born on September 5, 1923 to Mr. Jack E. James and Mrs. Myrtle Allen James, "Jackie" was a native of Summerton, South Carolina graduating from Summerton High School in 1940 prior to entering The Citadel with the Class of 1944. His junior year, he was a member of Cadet Company "L" as well as a member of the Second Class Rifle Drill Platoon known as the "Bond Volunteers".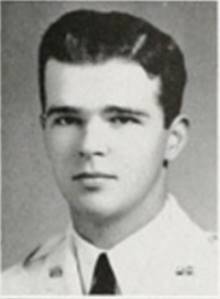 Cadet Platoon Sergeant John "Jackie" E. James, Jr., Class of 1944
September 5, 1923 – December 24, 1944
Photo source: 1943 Sphinx
After basic training and officers candidate school at Ft. Benning, Georgia, Lt. James served with Company "C" of the 264th Infantry Regiment, 66th Infantry Division having joined them at Camp Rucker, Alabama. His regiment and the 262nd Infantry Regiment were being rushed from England to the continent via Cherbourg to reinforce the America forces already engaged in the Battle of the Bulge. His ship, the SS Leopoldville, was carrying 2,235 troops when it was torpedoed by the German U-boat 486 five and a half miles from the French shore. More than 500 men drowned and more than 200 later died from injuries. Many of the drowned men were never recovered and are now listed on the Wall of the Missing at Normandy American Cemetery.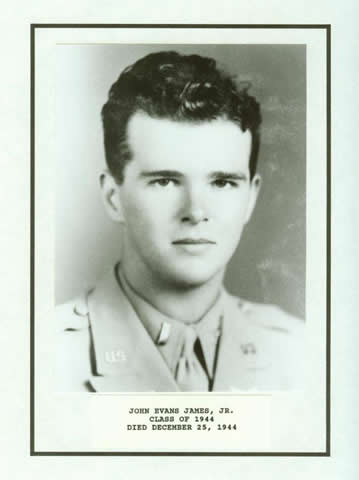 "Lieutenant James, 22, was killed in action when his ship went down in the English Channel, Christmas day. He had entered the army in the spring of 1943 after being graduated from Summerton high school and attending The Citadel for three years." – The State, Columbia, South Carolina, Sunday, April 15,1945.
Lt. James' body was recovered and buried at the temporary U.S. Military Cemetery St. Mere Eglise #2, Carentan, France. After the war, his body was repatriated to the United States and interred on Monday, July 26, 1948. Lt. James now rests in eternal peace at Evergreen Cemetery, Summerton, South Carolina.
---
See also: The class where 34 seats remained empty
---
Lt. John "Jackie" James was a member of The Citadel's Class of 1944, known as "The Class That Never Was" because all who had not yet left school to volunteer prior to the start of their junior (third year) were inducted into the army. They were allowed to finish the academic year, and, as soon as final exams were completed May 1943, they were sent directly to basic training. Most, but not all, would be sent onto Officers Candidate School. Twenty-one members of the Class of 1944 died in Europe during WWII. Ten are interred and one memorialized at American cemeteries in Europe.
Read more about the SS Leopoldville Christmas Eve disaster: http://www.uboat.net/history/leopoldville.htm
/RL
Memorial photo courtesy of The Citadel Archives and Museum, South Carolina.