Marion Stuckey, Class of 1945
Born Buddy Marion Skinner on September 12, 1924 in South Carolina, Marion was the adopted son of Mrs. Gussie Crosswell Stuckey and Mr. Charles Wesley Stuckey of Lee County, South Carolina. Mr. Stuckey's listed profession in the 1940 census was farmer.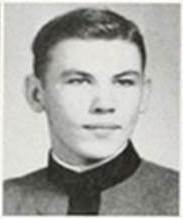 Cadet Private Marion Stuckey
Class of 1945
1943 Sphinx, p. 154
Marion Stuckey graduated from Bishopville High School and entered The Citadel at Charleston in 1941. A member of Cadet Company "O" his sophomore year (the academic year 1942-43), Cadet Stuckey was inducted into the US Army on June 10, 1943.
He received his basic training at Fort Riley, Kansas, University of Missouri, University of Minnesota and Camp Philips, Kansas. On September 1, 1944 he left went overseas. He served with Company G, 71st Infantry Regiment, 44th Infantry Division. According to a weblog post from an unidentified great-nephew, family history tells that Marion studied French at The Citadel and served as an interpreter.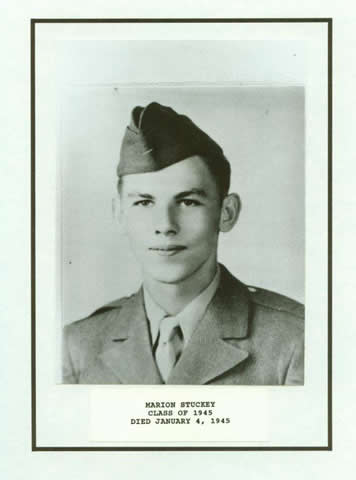 A casualty of the German's Operation Northwind, PFC Stuckey was killed in action on January 4, 1945 in the vicinity of Rimling, France. The family believes that he was killed by friendly fired when the convoy he was traveling in was mistakenly targeted by an American air attack. He was buried at the U.S. Military Cemetery at Epinal, France, and after the war, his body was repatriated to the United States. He now rests in eternal peace at Mount Elon Cemetery in Bishopville, South Carolina.
Memorial photo courtesy of The Citadel Archives and Museum, Charleston, South Carolina.
/RL
Sources:
1943 Sphinx, Annual of the South Carolina Corps of Cadets. Charleston, South Carolina.
The State. Columbia, South Carolina. March 1, 1945. p2.
Applications for Headstones for U.S. Military Veterans, 1925-1941. Records of the Office of the Quartermaster General, Record Group 92. National Archives at Washington, D.C.
United States. Army. Quartermaster General's Office. Rosters of World War II Dead (all services). Washington, D.C.: U.S. Army.
United States of America, Bureau of the Census. Sixteenth Census of the United States, 1940. Washington, D.C.: National Archives and Records Administration, 1940.
Ancestry.com
Findagrave.com