Vestal Malone, Class of 1945
On August 9, 1924, Vestal Malone was born in Cienfuegos, Cuba to Mrs. Claire Gerbaulet Malone and Mr. William Adolphus Malone. During his youth, he lived in Cuba, Central America, Colombia, Brazil and the Argentine where his father, an American and Power Executive developed extensive electrical programs in those countries. He graduated from Orlando Senior High in 1941 and entered The Citadel with the Class of 1945 later that year.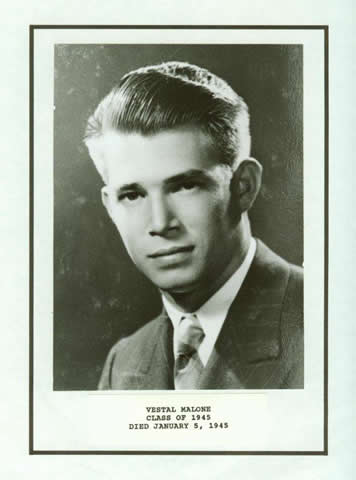 On November 30, 1942, he enlisted in the U.S. Army, and after basic training joined the 106th Infantry Division at Fort Jackson, South Carolina as it prepared to deploy to the European Theater. He was assigned to Company "G", 424th Infantry Regiment.
The 106th Division was only five days on the line when the Germans attacked it in the Schnee-Eiffel / Ardennes at the German-Belgium border on December 16, 1944. Two of the Division's three regiments were surrounded and forced to surrender. Over 7000 GI's of the 106th spent the rest of the war in various POW camps. The 424th Infantry Regiment was further to the south and was not surrounded but beaten back to St. Vith which it held for several days before being forced by the Germans to relinquish it and retreat.
PFC Vestal Malone was wounded during the fighting of the Battle of the Bulge. He returned to the U.S. for recovery and rehabilitation. On July 31, 1945, he was honorably discharged. A half-year later, on January 6, 1946, at the age of 21, he died from his wounds received in combat. At the time, he was attending Rollins College at Winter Park, Florida. He was survived by his parents and a younger brother, William.
PFC Vestal Malone, Class of 1945, now rests in eternal peace at Maplewood Cemetery, Anderson, Indiana. Anderson is the birthplace of his father.
Memorial photo courtesy of The Citadel Archives and Museum, Charleston, South Carolina.
/RL