William Beattie Bendure, Class of 1946
Born on February 25, 1925, William Bendure, of Mahoning County, Ohio, graduated from Stauton Military Academy in 1942 and entered The Citadel as a freshman on August 31st with the incoming Class of 1946. He was a member of Cadet Company R, and, like many of his classmates after the academic year was out, he enlisted in the Army the summer of 1943. He later was commissioned as an infantry officer.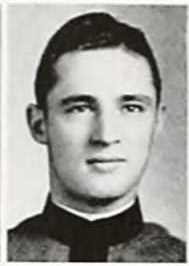 Cadet Private William B. Bendure
1943 Sphinx
In the ETO, he was assigned to Company B, 1st Battalion, 376th Infantry Regiment, 94th Infantry Division. The 94th landed at Utah Beach, D+94, September 8, 1944, and moved into Brittany to assume responsibility for containing some 60,000 German troops besieged in the Channel ports of Lorient and St. Nazaire. They were relieved on New Year's Day 1945 and moved westward taking up positions in the Saar Moselle Triangle facing the Siegfried Switch Line. They went on the offensive January 14th.
The Saar Moselle Triangle was heavily contested real estate that changed hands several times during the battle. On January 27, 1945, a month before his 20th birthday, 2Lt. Bendure was killed in action at Sinz, Germany, a small village that was considered the keystone to taking and holding the Saar Moselle Triangle for good.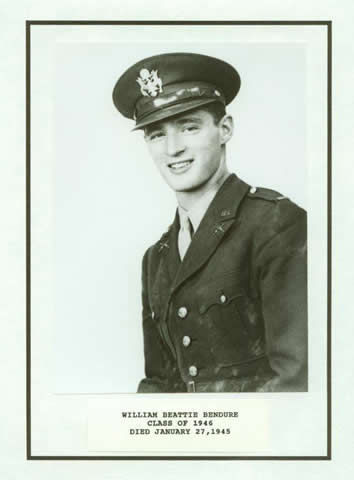 Lt. Bendure was posthumously awarded the Silver Star for gallantry in action in France and Germany from October 1, 1944 to January 27, 1945. According to the SMA news, the citation explained his platoon had moved in on new positions. A violent enemy counter-attack forced the men to withdraw. Lieutenant Bendure reorganized his men quickly. "Completely disregarding personal safety," he led them against the enemy positions again" The objective was recaptured, many Germans were killed, and the rest fled. Then, as he checked front line positions, Lt. Bendure was fatally injured by artillery fire.
When the assault companies reached the highway, they each delegated a squad to go forward into Unterste Büsch Woods, where they were met by ferocious enemy fire coming from three concealed tanks and their escorting infantry. Lt. William Bendure of B Company and Sergeant Ackerman of C Company were hit. – Patton's Pawns: The 94th US Infantry Division at the Siegfried Line
His Citadel classmate, Harry Bell Launius, Jr., was killed in action on the same day about 4 kilometers away as his unit, also part of the 94th Division, was attempting to retake Nenning, Germany.
Temporarily buried at the 3rd Army cemetery at Hamm, Luxembourg, Lt. Bendure's body was repatriated after the war. He now rests in peace at section 12 grave 1453 in Arlington National Cemetery in Virginia.
Memorial photo courtesy of The Citadel Archive and Museum, Charleston, South Carolina.
/RL