Thomas Hutson Martin, Jr., Class of 1940
This biography was written by a West Point classmate (Class of 1943) and published on the website of the West Point Association of Graduates. View the Original. In this post, photos of Cadet Martin from the 1939 Sphinx, the yearbook of the South Carolina Corps of Cadets, are included.
---
Thomas Hutson Martin, Jr. was that unusual combination of talents: soldier, engineer, leader, and musician. His father, a Fellow of the American College of Surgeons, was a native of South Carolina, as was his mother whose Scotch name of Mclnnes showed their affiliation to the Scotch Presbyterian Church. His preparation for West Point included the Charleston High School in Charleston, South Carolina, and three years at The Citadel where he rose to the rank of cadet lieutenant. With that background, it was a foregone conclusion that Hut would rise, as he did, to Second Class corporal, First Class lieutenant and Company Commander of C Company, 2d Regiment. These soldierly virtues combined with a class rank under one hundred to give Hut the berth as a Lieutenant of Engineers which he so desired.
Citadel Cadet Sergeant Thomas Hutson Martin, Jr., Class of 1940
Civil Engineering; Cadet Company "H"
1939 Sphinx, p. 100
It was not only those of us who played in the cadet orchestra who got to know the musician, for Hut was a pianist whose talents rivaled those of Teddy Wilson and Bob Zurkc. He could play from music, play by ear, and play on sight any strange accompaniment placed in front of him. A first string standout in the orchestra, he also wrote and arranged music for the 100th Night Shows. In those halcyon days when music was music, orchestrating for a large band took real skill; Hut had it. For all these reasons he was made leader of the orchestra our First Class year; he sang in the choir as well.
Citadel Cadet Thomas Hutson Martin, Jr., at the piano with the Bulldog Orchestra.
1939 Sphinx, p. 115.
Ten months after graduation Hut married Cecile Arnold of Baltimore and Washington—a great grandniece of General Phil Sheridan, who had gone to school in the neighborhood of West Point. Frank Conaty was best man. After a reception at the Thayer, the couple left for Camp Campbell, Kentucky. Les Meltzer was groomsman of the ushers. Colonel Wheat performed the service.
From Fort Campbell, Hutson Martin moved to Camp Barkeley, Texas, where he was to assume command of Company C of the 119th Armored Engineer Battalion by the spring of 1944. He took the company to the war in France; there he died. A short obituary in the magazine of the 12th Armored Division indicated what the men of the Battalion thought of Hut. A member of his command wrote: "No one who had the privilege of knowing him will ever forget how Captain Martin, an honor graduate of West Point Military Academy, sacrificed his life on the battlefield of Germany when he insisted on attempting to go through the unplotted mine field, by himself, to determine if two of our enlisted men were killed or merely wounded. His intention, of course, being to bring them back if they were wounded."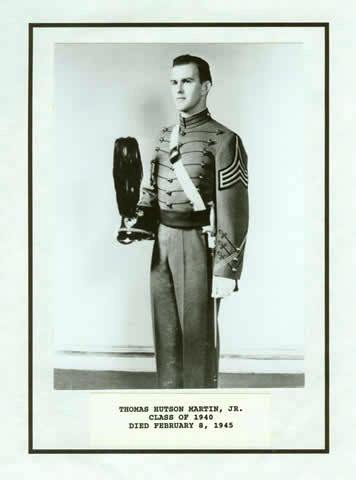 Despite the mention of Germany, it was actually near the border in Gries, France, where Hut was mortally wounded by the exploding land mine. Typically, he refused immediate medical treatment, and demanded that the surgeons first operate on the enlisted men serving with him who had been wounded in the same explosion. He was evacuated to an Army hospital suffering from multiple wounds and loss of blood. After an extremely extensive operation which lasted hours, he recovered sufficiently to be able to see a few of the men from his company. But the shock had been too much for his body to take and he ultimately died on 8 February 1945 in a hospital in France. He lies among his comrades in the beautiful cemetery at Epinal, France—the country in which he fought.
Ten years after our graduation, a Reserve Armory in Charleston, South Carolina, was named after Hut—a fitting memorial to a great soldier and inspirational leader. Hut's ties to the Charleston area remained close, and he was aways a South Carolinian. He has been and will continue to be missed by all of us who knew him well. The Silver Star and Purple Heart presented to him after death were well earned on the field of battle. We who knew him are sure he is arranging music for the angels.
W. A. K.
---
Notes:
1) Memorial photo courtesy of The Citadel Archives and Museum, Charleston, South Carolina.
2) Another Citadel Man, Clough Farrar Gee, III, Class of 1939, graduated from West Point in January 1943 with Cadet Martin. Capt. Gee became a decorated fighter pilot in the European Theater. He was killed in action on D-Day+1 and now rests in eternal peace at Normandy American Cemetery in France.
3) Three more Citadel Men rest in eternal peace at Epinal American Cemetery – Ralph Emory Kibler, Jr., Class of 1942; Paul Richardson, Class of 1944; and Kingsley Robert Pearse, Class of 1946.