Martin Frederick Schnibben, Jr., '43
Born on February 4, 1922, to Mrs. Leah Martha Stooks Schnibben and Mr. Martin Frederick Schnibben, in Florence, South Carolina, Martin F. "Jack" Schnibben, Jr., attended the Florence city schools and graduated from Riverside Military Academy of Gainesville, Georgia and Hollywood, Florida.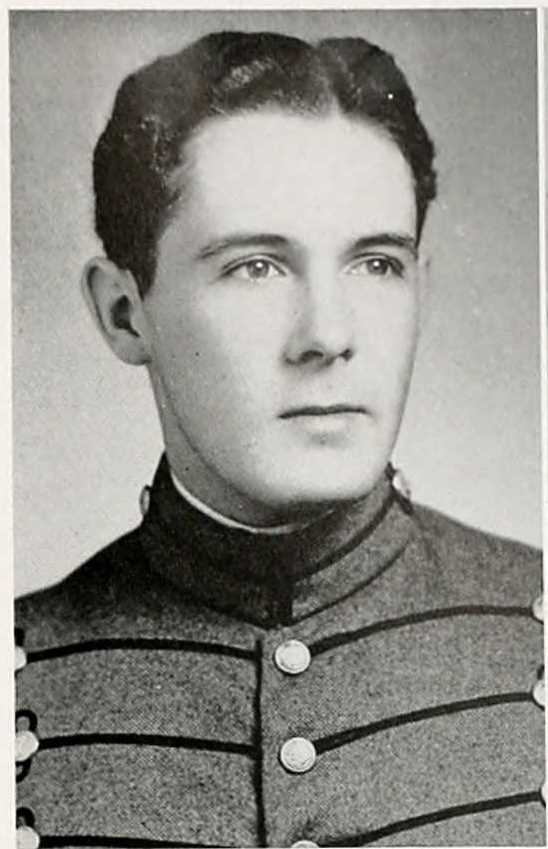 Cadet Second Lieutenant Martin Frederick "Jack" Schnibben, Class of 1943
Source: 1943 Sphinx, the yearbook of the South Carolina Corps of Cadets.
He entered The Citadel at Charleston, South Carolina in 1939 where he was a member of Cadet Company "B" his freshman year, "C" his sophomore year, and "A" his junior and senior years. He played on the football team his first two years, and was a member of the International Relations Club his final two years at the college. During his senior year, he held the rank of Cadet 2nd Lieutenant his senior year and graduated May 28, 1943 with a Bachelor's degree in Political Science.
In May 1943, he enlisted in the U.S. Army. On July 1, while on leave prior to attending Officer Candidates School, he married Ms. Bonnie Hayes McCubbins of Florence. He received his commission that fall at Fort Benning, Georgia. He was then stationed at Fort Blanding, Florida, for several months before being transferred to Fort Meade, Maryland, from where he went overseas.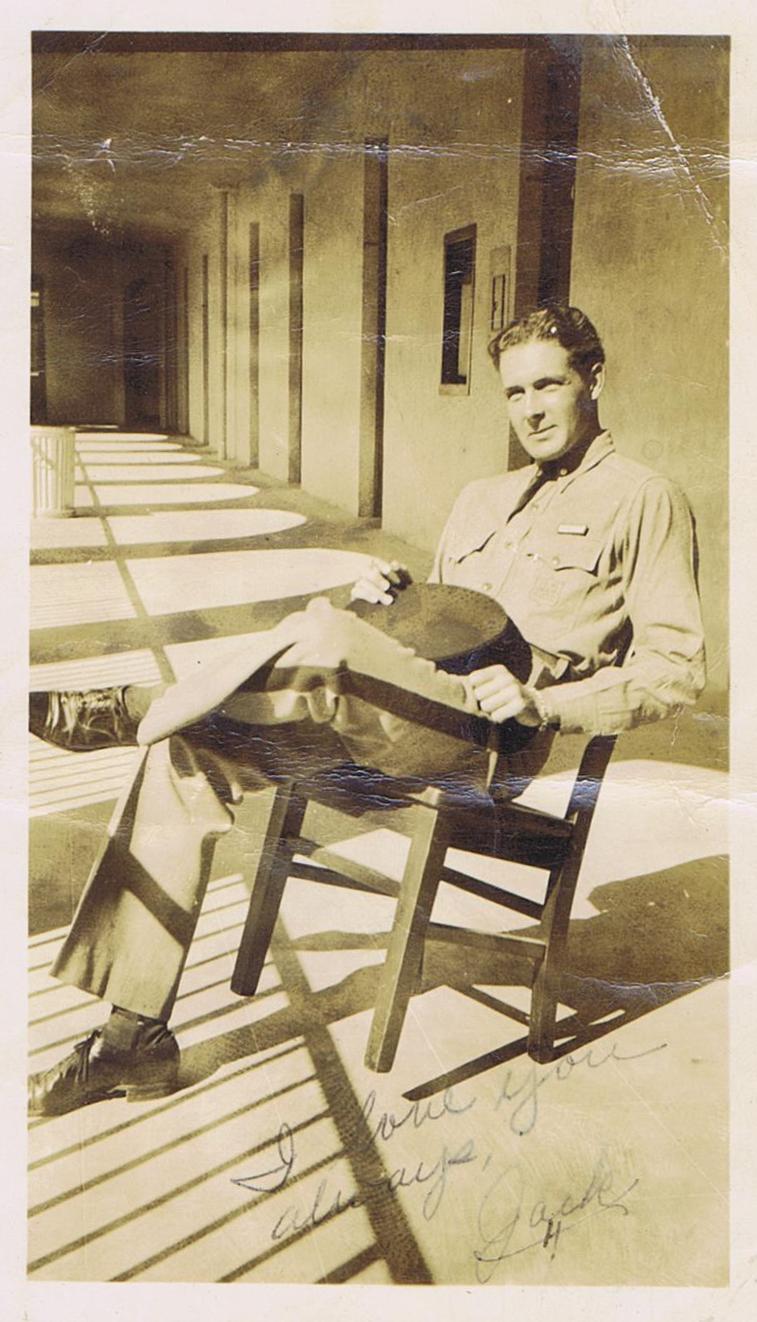 A candid photo of Cadet 2Lt. Schnibben at The Citadel to Bonnie
found in box of Jack's letters. Courtesy of the McCubbins-Probst family.
2Lt. Schnibben arrived in Europe on August 17, 1944. Arriving in England, he later moved to France, and, in late December, he entered combat near Luxembourg and served with Company "M", 3rd battalion, 8th Infantry Regiment, 4th Infantry Division.
His family received a telegram on February 28, 1945, reporting him missing-in-action since February 11th. In June, a buddy of 2Lt. Schnibben wrote to the family that Jack was wounded and captured during a German advance when their unit was forced to retreat. A first aid man was sent to Lt. Schnibben, and he, too, was taken prisoner. In July, the family received a telegram informing them that he had been wounded in both legs. It was not until August 1945 that they learned Jack had died of his wounds while a prisoner of war on February 12, 1945.
The 4th Infantry "Ivy" Division Headquarters were reported to be at Bleialf, Germany on February 7, 1945, and the division captured Prum, Germany on February 9, 1945.
Lt. Schnibben was buried in the U.S. Military Cemetery at Hamm, Luxembourg, and following the war, his body was repatriated to Florence. He now rests in eternal peace at Mount Hope Cemetery where he was permanently interred on Tuesday, April 12, 1949.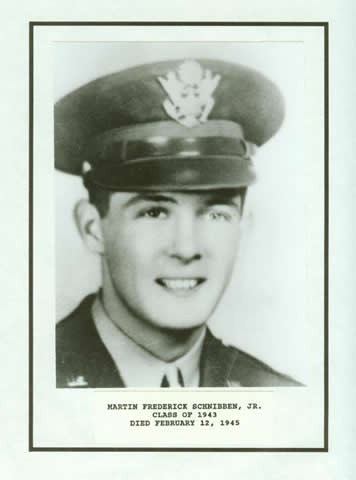 Jack was survived by his wife; parents; two sisters, Carol and Marilyn Ruth; and his grandmother, Mrs. Charles Schibben, of Wilmington, North Carolina. Lt. Schnibben was a member of St. Luke's Lutheran Church of Florence.
On Sunday, May 8, 1949, the corner stone of the new St. Luke's Lutheran Church was laid at the corner of King Avenue and Winston Street. The Florence Morning News reported, "The church edifice is being erected as a memorial to the late Lt. Martin F. "Jack" Schnibben, Jr. by his parents, members of the congregation, and friends…"
Second Lieutenant Schnibben received the Purple Heart Medal and the Combat Infantryman Badge.
/RL
Memorial photo courtesy of The Citadel Archives and Museum, Charleston, South Carolina.