Joseph Altomari, Class of 1945
Born in 1923 to Maria and Pasquala Altomari, Joseph grew up at 60-12 68th Avenue in Ridgewood, Brooklyn, Kings County, New York. He attended The Citadel for two years before entering service in the U.S. Army. During his freshman year, he was a member of Cadet Company "H". The following academic year, he was a member of Cadet Company "K" and joined the English Club. On December 6, 1942 in Charleston, he enlisted in the army and was placed in the Enlisted Reserve Corps which allowed him to continue his study at The Citadel.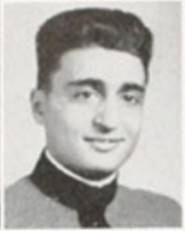 Cadet Private Joseph Altomari, Class of 1945
1943 Sphinx, Annual of the South Carolina Corps of Cadets
After being activated, he served for a time at Camp Breckenridge, Kentucky. He was with the Army Specialized Training Program (A.S.T.P.) until its dissolution in March 1944.
In Europe, he served in Company "C", 50th Armored Infantry Battalion, 6th Armored Division. Sgt. Altomari died ofnon-battle related wounds on May 10, 1945, two days after the surrender of Nazi Germany. Two months later, it was reported in Charleston's News and Courier he had died "of wounds received in Germany, resulting from the explosion of a land mine."
From the 50th AIB After Action Report (AAR) for May 1945…
After physical contact was made with the Russians no further patrols were sent out, but the Germans straggled in all day to our outposts. The 8th of May was spent in waiting for the official announcement of the war's end and in handling the ever growing hordes of displaced persons. Midnight brought final word of peace in Europe amidst a puny half-hearted celebration by the troops. The cessation of hostilities brought no immediate change in military activities; the bridgeheads were still held and PW's and DP's continued to be major problems.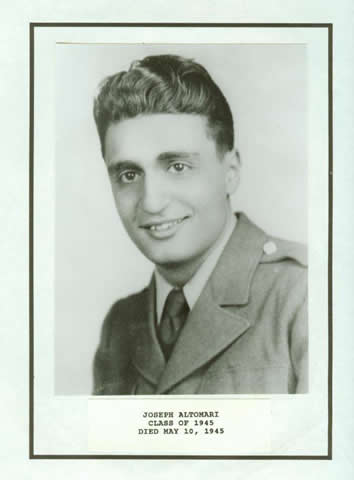 It was not until 10 May that our troops were pulled out of the two free cities except for one squad left in the West end of Geringswald. When "C" Company of the 44th and "B" Company of the 68th reverted to their parent organizations, the 50th assumed complete control over each road and bridge leading into Rochlitz. During the remainder of its stay on the Mulda [river] the Battalion was engaged in maintaining law and order and in taking the opening steps in evacuating the ex-slave laborers back to their homelands. On May 13 the 76th Division relieved the 50th which then prepared to move to its new area in and around Eisenberg.
Sgt. Altomari was buried in the U.S. 9th Army military cemetery at Margraten, Netherlands. His body was later repatriated to New York for reburial.
/RL
Memorial photo courtesy of The Citadel Archives and Museum.