Marvin Roth, Class of 1944
Born on July 18, 1924 to Estelle and Mack Roth and a native of Daytona Beach, Florida, Marvin Roth entered The Citadel in 1940 after graduating from Seabreeze High School. He was a member of the Class of 1944, known as "The Class That Never Was". During his junior year, he was inducted into the US Army on November 12, 1942, and, together with his classmates, was immediately sent to Army basic training when the academic year ended, May 30, 1943.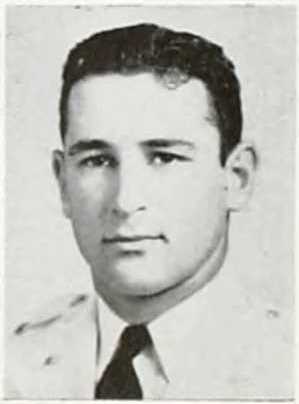 Cadet Private Marvin Roth, Class of 1944
Source: 1943 Sphinx
While at The Citadel, Cadet Roth majored in English and was a member of Cadet Company C. In extracurricular activities, he was a member of the English Club and the boxing team, fighting in the 145-pound class.
---
"After all, I shall have to live with myself for a lifetime."
---
In July 1943, Marvin Roth, along with another 61 members of The Citadel's Class of 1944, underwent training at Fort McClellan in Alabama in lieu of the training normally given during the final Reserve Officer Training Corps year. At the end of this special training, and as soon as vacancies in officer candidate school at Fort Benning, in Georgia, opened, they would be sent for final training as second lieutenants in the officer's reserve corps.
Having completed the special training, Marvin Roth declined officer candidate school in order to get to the action sooner. Specifically, he decided to forgo the opportunity to be commissioned as second lieutenant so that he could become a private in the paratroopers where, as his father would later explain, he felt the need was greater.
In March 1945, while serving with the armored infantry in combat in Germany, SSGT Roth's name was entered into the Congressional Record when his congressman read aloud, on the floor of the House of Representatives, his letter explaining how he could not accept the congressman's appointment to the US Naval Academy because his duty was with his men at the front. (The news article with the full account follows below.)
An account of his refusal of the appointment was also reported by a combat correspondent who wrote the action left his fellow soldiers bewildered and his platoon sergeant completely baffled as to why anyone would pass up the chance to return to the safety of the "Promised Land". When asked about his decision, SSGT Roth told the reporter, "I'm over here now and have seen what it is all about. I realize that my job is here. After all, I shall have to live with myself for a lifetime."
He was serving as a rifle squad leader with Company B, 56th Armored Infantry Battalion, 12th Armored Division, Seventh Army, when he was killed in action in the vicinity of Harthausen, near Guenzburg, Germany on April 25, 1945. He was 20 years old.
During his service, SSGT Marvin Roth earned the Purple Heart Medal with 2 Oak Leaf Clusters. SSGT Roth was awarded the Silver Star medal posthumously.
"For gallantry in action on April 24-25, 1945, in the vicinity of Limbach, Germany, Staff Sergeant Roth, after leading his men to cover, returned to road exposed to mortar, machine gun, and small arms fire to rescue three of his wounded men. He carried them to a place where medical treatment was administered. Completing this dangerous mission, he held his men in an attack that completely annihilated the enemy. In this attack, Staff Sergeant Roth was wounded by an exploding hand grenade while attempting to prevent a German from throwing the grenade at his men. The following day, while charging a machine gun position, Staff Sergeant Roth was mortally wounded. Despite this fatal would and condition, he effectively directed tank fire on this position and neutralized it. Staff Sergeant Roth died of his wound while being evacuated to an aid station."
SSGT Roth was buried in the U.S. Military Cemetery at St. Avold, France. His parents did not receive notification of his death until after the German surrender.
In 1948, his body was repatriated to the United States and interred at Mount Sinai Cemetery in Daytona Beach, Florida, where Marvin Road and Roth Street as well as the Marvin Roth B'nai B'rith Lodge are named in his honor.
/RL
---
Jewish Floridian, Friday, April 13, 1945, p. 7.
LETTER FROM M. ROTH IN CONGRESS. RECORD
Congressman Joe Hendricks on the floor of the House of Representatives March 19 made mention of an unusual incident concerning Sgt. Marvin Roth, son of Mr. and Mrs. Mack Roth of Daytona and nephew of Mr. and Mrs. Nat Roth of Miami. His remarks, inserted in the Congressional Record, occasioned much comment by congressmen present. It cited the refusal of Sgt. Roth's appointment to Annapolis as a designee of Rep. Hendricks'.
The remarks, as appearing in the Congressional Record, follow:
Mr. HENDRICK. Mr. Speaker and members of the House, we know how appointments to West Point and Annapolis are coveted by so many fine young men in our districts. It certainly is a rare thing to have one of these appointments turned down after it has been offered.
Recently I offered an appointment to Marvin Roth, of Daytona Beach, Fla., and it caught up with him in the front lines. He declined the appointment, preferring to stay there on the job. I received a letter from his father, for which I am asking permission to include in the Record because of the fine letter that he wrote his father, Mack Roth. This boy is an honor to his country.
The letter follows: Daytona Beach, Fla., March 14, 1945.
My Dear Congressman: Your offer of appointment of my son Sgt. Marvin Roth, to the United States Naval Academy, caught up with him at the front lines of the Seventh Army.
Marvin writes me that he turned down your very kind and generous offer. He wants to stay with the boys. Because I think you should be very proud to have selected such a boy for appointment, prompts me to write you and tell you what he said in his letter and point out why it is that our American boys will never be defeated by any country, no matter who the enemy is. It's the spirit of boys such as my son that makes us all proud of being Americans.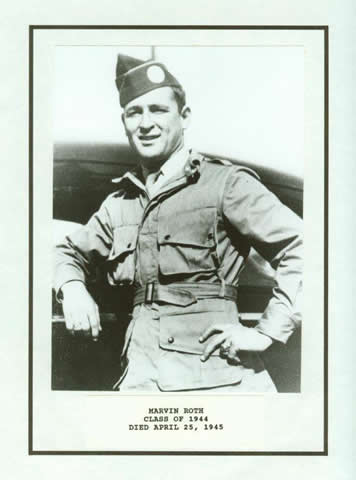 Quote from Marvin's letter: "So you can see that the life of a soldier in combat is pretty easy when he is not busy dodging bullets, and with the psychology that I use, even the falling of artillery 50 feet away isn't such a rugged thing. Too many men go into action with a fear of being hit, while if you watch the odds, you're as safe as can be. I honestly believe this sitting back safe from the normal battle conditions is more trying on the nerves than actual fighting. Waiting and watching has never been to my liking, and it's making me restless, as I have always been in the past. All the fellows that are with me seem to be perfectly content to remain here for the duration, but war hasn't disillusioned me yet, so I'm still 'raring to go.' I wonder if my attitude will ever change, but when I really think about it, I believe I'll always crave the excitement and adventure of the unknown. I've listened to the fellows talk about going home, and that if they get there, no power will induce them to ever return overseas; but my mind doesn't function that way, and I've been able to make myself perfectly comfortable and content regardless of where I am at. That's why I refused Congressman Hendricks appointment when it caught up with me at the front. I'll be back soon enough, so don't worry." End of quote
Not one boy in a thousand would have refused your appointment, especially while dodging bullets and living in foxholes. My son has had four years of R.O.T.C. in military colleges, and when the need for paratroopers became great, he wanted to transfer to that branch, from the infantry branch that he was in. He could not at that time transfer in rank, so resigned the R.O.T.C. and his commission as second lieutenant to be a buck private in the paratroops. I dare state that very few men in the army ever did a thing like that. Since he has transferred however, I understand that one can now transfer in rank. I hated to see him lose his R.O.T.C. standing after completing four years of that work and hope some day the War Department will reinstate those who resigned before the new rules went into effect. Please pardon my bragging. he may not win medals but if he had accepted your appointment he would have brought you credit as he will his country.
With kindest regards and best wishes. Sincerely and cordially yours, Mack Roth.
End Article