Melvin Charles Helfers, '37
By Col. Jared Kline, '80, USA (Ret.)
It is 23 September, and I have to remember an old friend. Today would have been the 105th birthday of my old mentor, LTC Melvin Charles Helfers, Citadel Class of 1937.
---

Cadet Captain Melvin Charles Helfers
Infantry — English
Addison, Illinois

"Melvin came to us our Sophomore year after making an outstanding record at prep school. It did not take him long to acclimate himself and demonstrate his ability. Gold Stars came his first year and a staff captaincy followed in his last year. Always quietly efficient this Chicago lad capably handled the position of Prose Editor of The Shako and has been one of the most valuable members of the Round Table. One of the most brilliant men in the senior class. Melvin plans to teach and we predict his success with no trepidation.
1934-35 Pvt.. Co. C: Gold Stars. 1935-36 Plat. Sgt.. Supply Sgt.. Co. C; Gold Stars; The Round Table; Varsity Baseball. 1936-37 Capt.. Reg. Staff; Gold Stars: The Round Table; Prose Editor, The Shako: Yankee Club; Fourth Corps Area Rifle Team." – Source: 1937 Sphinx

---
He was an Army captain stationed at Pearl Harbor when it was attacked in 1941, and went on to become General Patton's ULTRA intelligence officer for the war in Europe. Although he was an infantryman, he was put into signals intelligence work because he came from a German (Prussian) family in Illinois and spoke German perfectly. Here is a picture I have of him, taken on 26 August 1944, giving an ULTRA briefing to General Patton and his Chief of Staff MG Gaffney when he was a major on Patton's staff with the 3rd Army in France.
Patton (center) confers with General Hugh J. Gaffney (seated) and Major M.C. Helfers of the 5th Division, August 26, 1944, during Patton's expansion of Operation Cobra. (Virginia Military Institute Archives).
When I knew him, he was fully retired, having taught at The Citadel for some years after retiring from the Army, before I became a cadet. He taught me a lot as a young cadet, and I owe him for that. He made it his project to teach me what he considered an old fashioned Army officer ought to know and to be; and he was as old fashioned as they come ("and for air defense, we have the revolver"). He actually taught me how to ride a horse, and how to look like an officer while doing it. He would show up to watch every parade, and after every Friday afternoon parade he would give me his critique of it — he never missed a mistake.
I knew him for years and never saw him without either a necktie or a day cravat, and if he was outside he always wore a hat (generally a Prinz Heinrich Mütze), with a jacket or blazer appropriate to the weather. I was to understand that this was the proper civilian dress for a retired Army officer (come to think of it, now that I am retired, I am doing exactly what he specified, so many years ago). Another detail about him was that NOBODY called him "Mister." I never saw it, but if anyone ever would have addressed him in that way, I expect he would simply have ignored him. That was for civilians, and he made sure that I understood that to be an Army officer is not one's job. It is what one is. Our very culture, as professional soldiers, is a military culture. Civilians are something else, and they can do as they like. I was to understand this, and I did. It was part of my education.
He retired to Charleston, South Carolina and died there in 1987, long before I could ever repay what I owe him. He is buried in Beaufort National Cemetery. I never knew a better man.
Anyway, I still owe him and I have to think of him today.
/JK
About the author: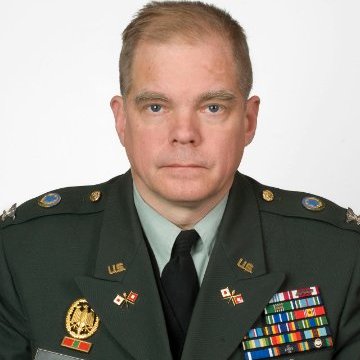 Col. Jared Kline, USA (Ret.) graduated from The Citadel in 1980 with a Bachelor of Arts in History. He also holds a Master of Military Arts and Science, Military History, from the US Army Command and General Staff College, and a Master of Strategic Studies, Europe, from the US Army War College. Col. Kline's career spanned three decades within the US Army Signal Corps. Early in his career, he served with the 82nd Airborne and earned "Jump Master". From 2001 to 2012, he held various positions at SHAPE and NATO Headquarters in Belgium. He is spending his retirement with his wife on a pre-Napoleonic farm in Belgium and is a prolific writer of Historical as well as Current Events analyses.