Thomas Edwin Campbell, Jr., Class of 1946
Born on May 12, 1924, in Florence, Alabama, to Mr. and Mrs. Thomas "Ed" Campbell, Thomas "Tom", Junior, attended grade school in the Florence city schools. After completing two years at St. Bernard College at Cullman, Alabama, he transferred to Columbia Military Academy at Columbia, Tennessee, where he graduated in 1942. He entered The Citadel at Charleston, South Carolina, to study engineering in the fall of 1942, but volunteered for the services in the Air Corps in December. His father, Ed Campbell, attended Staunton Military Academy in Virginia and was a fighter pilot during the First World War.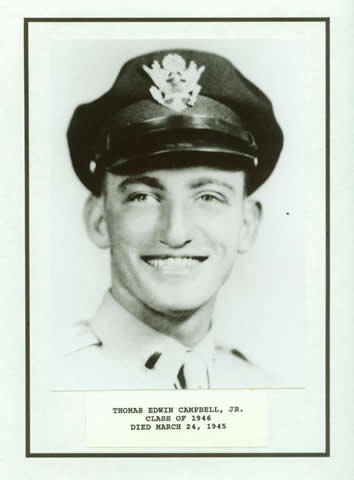 Tom Campbell was called to active duty in February, 1943, and upon completion of his training received his wings and his commission at Dothan, Alabama. Sent overseas in February, 1945, he served in the 8th Air Force, 446th Bomb Group, 705th Bomb Squadron, as a co‐pilot of a B‐24H bomber and completed about 40 missions.
March 24, 1945 – Operation Varsity and Drop Zone Wesel
The mission on 24 March 1945 was in support of Allied troops engaged in Operation Varsity. The 2nd Air Division's Field Order stated, "Varsity can be considered the most important combined operation since the invasion of France. 2AD's mission is the D-day supply of assault and airborne forces which will have landed on the German side of the Rhine shortly before our crews drop supplies to them. The magnitude of an operation of this sort makes it essential that for its complete success each part of the job by each force participating must be carried out with exactitude. 2AD is committed to drop supplies in the places designated."
It was the largest single-day airborne operation in history. Paratroop and ground troops from the US, Britain, and Canada were delivered behind enemy lines by nearly 1,600 aircraft and gliders. Dropped with them were equipment and supplies such as artillery, weapons and vehicles. Fifteen minutes later came 240 B-24s from the 2nd, 14th, and 20th Combat Wings to drop bundles with ammunition, ordnance, grenades, rations, blankets, medical supplies, etc. Half the bundles were for American troops and half for British use with the drop zones about four miles apart.
The above text is copied from the record of the 392nd Bomb Group. The detailed, full account, including mission photos, is highly educational and can be found at www.B24.net.
The Plight of Lt. Campbell and the crew of B-24 41-28814
The mission target of the 446th Bomb Group, which was based at RAF Bungay, England (USAAF Station 125), was NORTH ZONE "B" near Wesel, Germany. At approximately 1:30pm the group dropped supplies to ground troops on the low-level mission. Flying at 300 to 700 feet, the planes were met by small arms and light artillery fire. Three of the group's aircraft were shot down with a loss of fourteen crewman killed.
"On 24 March 1945 aircraft No. 41-28814 was on a supply low level mission to Wesel, Germany. After making the supply drop while flying at approximately 300 feet altitude, the aircraft was hit by 20mm cannon fire from the ground. A fire broke out between number one and two engines starting on the leading edge of the wing. Small arms fire had made numerous holes in the ship." S/Sgt. Thaddeus D. Nanna
Standing L – R: Tom Campbell, co-pilot; James Anderson, navigator; Harris Hepp, bombardier; Dale Beasley, pilot
Kneeling L – R: Paul Walder, tail gunner; Jack Smith, waist gunner; Thaddeus Nanna, engineer; Richard Brown, radio operator; Joseph Malinowski, gunner; John Heslin, nose gunner

"The ship was last seen making an S-turn into Germany. Visibility was very poor as a result of battle smoke and screen laid down by allied troops." S/Sgt. Richard C. Brown.
According to the detailed account of nose turret gunner, Sgt. John R. Heslin, recorded in the Missing Aircraft Report, the pilot, 2Lt. Dale D. Beasley, tried to keep the ship in the air so all personnel would have ample time to bail out. Sgt. Heslin believed 2Lt. Beasley was killed in action due to the fact that he did not bail out but rode the ship until it crashed on the ground. Waist gunner Sgt. Jack D. Smith and tail gunner Sgt. Paul Walders were unable to bail out and went down with the ship. The co-pilot, 2nd Lieutenant Campbell, bailed out, but no one saw his chute open. The navigator, F/O James Anderson was afraid to bail out because the nose wheel door would not open and was finally forced to jump from the bomb bay doors. No one saw his chute open, but he was seen dead on the ground in No Man's Land. The top turret gunner, S/Sgt. Thaddeus Nanna, bailed out and landed West of the Rhine. He was picked up by allied troops. Radio Operator/Mechanic S/Sgt. Richard C. Brown bailed out and landed in the Rhine. He was picked up by an allied landing craft. Sgt. Heslin bailed out of the bomb bay and landed about fifty yards from F/O Anderson. He was picked up by a patrol of American infantrymen from the 30th Division.
The bodies of the Lieutenants Beasley and Campbell, F/O Anderson, and Sergeants Smith and Walder were recovered and taken south to the U.S. 9th Army's military cemetery at Margraten in the Netherlands. Following the war, Lt. Tom Campbell's body was repatriated, and he now rests in peace at Florence Cemetery in Lauderdale County, Alabama. F/O Anderson and Sgt. Smith remains were also repatriated. Lt. Beasley and Sgt. Walder are permanently interred at Netherlands American Cemetery, Margraten.
/RL
Sources:
The Florence Times, Florence, Alabama, Monday, April 30, 1935, p.1.
The Florence Times, May 8, 1975.
The Florence Times, September 20, 1975.
MACR 13537
446th Bomb Group
392nd Bomb Group
NARA
Findagrave.com